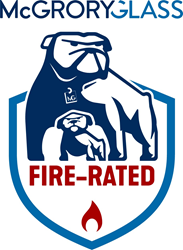 "AGC Pyrobel® is Cradle-to-Cradle Certified™ Silver. As a company, McGrory is committed to protecting the environment and sustainability. It's important for us to partner with organizations that align with those values."
PAULSBORO, N.J. (PRWEB) July 15, 2020
McGrory Glass, one of the largest independent architectural and decorative glass companies in the country, will now offer Pyrobel® Fire Resistant Glass by AGC. A single-source solutions provider, McGrory Glass combines innovative systems and comprehensive decorative capabilities with high-quality performance products. Based in Louvain-la-Neuve (Belgium), AGC Glass Europe produces, processes, and markets flat glass for the construction industry (external glazing and interior decoration), car manufacture, and solar power applications.
"We are excited to announce our collaboration with AGC," said CEO and President Chris McGrory. "Our customers work with intricate architectural designs that frequently require Temperature Rise performance. The Pyrobel® line of barrier-to-heat products is known for outstanding quality and has been rigorously tested to meet ASTM E-119 and UL 263 performance criteria."
"We are proud to represent an innovative product line with a 40-year international track record," said Blake Whitcombe, McGrory's Director of Performance Products & Key Accounts. "Pyrobel® is a multi-ply laminate that has low-iron float glass components. The transparent, intumescent interlayers deliver clear sight lines, allowing customers to balance their design goals with strict code requirements."
"Working with AGC also allows us to offer an environmentally friendly material," added Richard Whitcombe, Senior Project Manager of the McGrory Glass Fire-Rated Division. "Pyrobel® is Cradle-to-Cradle Certified™ Silver. As a company, we're committed to protecting the environment and sustainability. It's important for us to partner with organizations that align with those values."
McGrory Glass will stock the following for national sale:

AGC Pyrobel® 45
AGC Pyrobel® 60
AGC Pyrobel® 90
AGC Pyrobel ® 120
AGC Pyrobel® products are listed for use in doors, sidelites, transoms, borrowed lites, and wall applications with a fire rating of up to 120 minutes. Pyrobel® meets ASTM E-119 and UL 263 heat barrier performance criteria, while also meeting IBC's impact safety-rated requirements of ANSI Z97.1 and CPSC 16CFR1201 (Cat. I and II) for hazardous locations.
About AGC Glass Europe, a European leader in flat glass:
Powered by AGC®
Based in Louvain-la-Neuve (Belgium), AGC Glass Europe produces, processes, and markets flat glass for the construction industry (external glazing and interior decoration), car manufacture, and solar power applications. It is the European branch of AGC, a leading global producer of flat glass. It has over 100 sites throughout Europe. https://www.agc-pyrobel.com/en-gb
About McGrory Glass:
Founded in 1984, McGrory Glass is still family-owned after over three decades of growth. With four facilities spanning +200,000 square feet, they are committed to the environment and sustainability. The 2.2 acre solar paneled roof of the main warehouse brought McGrory recognition as one of the first major glass fabrication companies to hit net zero energy consumption. The company offers comprehensive architectural and life safety glass solutions, including the patented CaptiveHook® Glass Wall, Seismic, & Ceiling Mounting System, as well as an in-house Print Division specializing in innovative structural interlayers and custom decorative films. https://mcgrory.com/
Press/ Media Contact:
Helena Mutak, McGrory Glass
+1 856-579-3292
marketing@mcgrory.com