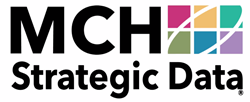 There are times when a business professional will want to purchase a data set quickly. We've addressed that need by adding the ability to build and purchase data online. - Amy Rambo, President of MCH Strategic Data
OVERLAND PARK, Kan. (PRWEB) August 06, 2019
MCH Strategic Data's primary goal during the redesign process was to create a more valuable, user-centric and responsive resource. The new site makes it easier for users to search for information about their full suite of data and technology solutions.
"We not only provide quality data, but we also provide the technology and analytics services for our customers to harness the full potential of our data," said Amy Rambo, President MCH Strategic Data. "There are times when a business professional will want to purchase a data set quickly. We've addressed that need by adding the ability to build and purchase data online. There are other instances where companies need integrations into their sales or marketing technology stacks. Our full range of integration options solves those needs. Our data scientists also help companies build analytics solutions that uncover the right insights and intelligence to solve complex problems."
For over 90 years, MCH Strategic Data has been a leader in delivering quality data solutions. Today, that not only means delivering the highest quality data, but it also includes solutions to help businesses acquire data at faster speeds, integrate data with near real-time updates and analyze data to make the most informed business decisions.
The new website makes it easy to find the right solution or service needed.

The new site is available now. For more information, please contact info@mchdata.com or call 800-776-6373.