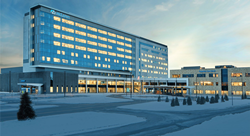 "We are devoted to providing our patients with the absolute best quality of care possible... keeping them informed is vital; and that's exactly what MEDI+SIGN helps us do." - Amanda Lampron, Interim Chief Nursing Officer and Director of Patient Care Services, McLaren Greater Lansing
SMITHSBURG, Md. (PRWEB) February 22, 2023
McLaren Greater Lansing's new $600 million hospital opened in March 2022, combining the operations from McLaren's Greenlawn and Pennsylvania Avenue campuses.
The McLaren Greater Lansing Hospital serves the community with the highest quality of care, utilizing the newest technologies in all areas of the hospital, from radiology and diagnostics to operating rooms and patient-facing communications. With the Greater Lansing Hospital, McLaren Health Care continues to integrate MEDI+SIGN as the corporate standard for digital patient room whiteboards and digital door displays across their 15-hospital network covering Michigan and Ohio.
The new 750,000-square-foot health care campus is located at the MSU Foundation's University Corporate Research Park. The main hospital boasts a nine-story tower with a 240-bed, state-of-the-art hospital, 17 operating rooms, three catheterization labs, an electrophysiology lab, a heart station, a 50-bed emergency department, an endoscopy suite, a radiology suite, and all public and support spaces. This new hospital contains all of the newest clinical equipment and technology available, making it one of the safest and highest-quality acute care hospitals in the Midwest. This comprehensive health care campus is home to over 1,000 physicians, researchers, educators, and other members of the academic and medical team.
"We have redesigned the traditional hospital and ambulatory care settings to build the safest, most efficient health care campus in the world," says Kirk Ray, President and Chief Executive Officer of McLaren Greater Lansing. "This project isn't just about bricks and mortar; this is about reinventing health care delivery. The campus and the actual processes of care were designed by our nationally recognized researchers, clinicians, nurses, technicians, physicians, the people who support the delivery of health care, and most importantly, our patients."
"We are devoted to providing our patients with the absolute best quality of care possible," says Amanda Lampron, Interim Chief Nursing Officer and Director of Patient Care Services at McLaren Greater Lansing. "The unique way that MEDI+SIGN allows us to address communication challenges creates an enhanced patient experience, while also allowing the family to participate in that process. This helps us present our patients with a comprehensive plan for the day, including input from Respiratory Therapy, Occupational Therapy, and others. All while utilizing our staff's existing workflows, without adding anything new, keeping the focus on the bedside. Our patients are our top priority, and keeping them informed is vital; and that's exactly what MEDI+SIGN helps us do."
This new, modern hospital was built with efficiency and the patient experience in mind. The hospital boasts a bright, open environment with a large lobby, gift shop, cafeteria, open outdoor spaces and walking trails, and private patient rooms with beautiful views.
"It's tough when you're going through something that brings you or a loved one to the hospital. We want to make it as painless as we can, knowing it's a tough time," said Austin Holcomb, program manager on the construction project. "We're really trying to keep the patient experience in mind as we've designed this facility."
"As part of the focus on patient experience, Greater Lansing Hospital has installed MEDI+SIGN, fully integrated in-room displays, into the patient rooms on all floors, including Med Surg and ICU," says David Linetsky, Founder/CEO of MEDI+SIGN. "The MEDI+SIGN electronic patient room whiteboards replace the traditional dry-erase boards in the patient rooms, to focus on communication enhancements while substantially reducing the staff workload."
The field-proven MEDI+SIGN solution is fully integrated with Cerner®, McLaren's electronic medical record (EMR), as well as their smart communications platform Vocera, to display the patient's real-time health care data to clinicians, patients, and their families.
About McLaren Greater Lansing
McLaren Greater Lansing (formerly Ingham Regional Medical Center), a teaching hospital located in Lansing, Michigan, is a subsidiary of the McLaren Health Care Corporation. It is affiliated with both the College of Human Medicine and the College of Osteopathic Medicine of Michigan State University.
McLaren and Michigan State University have enjoyed a long and productive relationship on medical education, clinical care, and research. As a teaching site of Michigan State University, McLaren Greater Lansing annually trains more than 150 residents, fellows, and medical students from both the College of Human Medicine and College of Osteopathic Medicine.
McLaren and MSU researchers are already partnering on 36 active research protocols to better understand and treat breast cancer, prostate cancer, colon cancer, heart attacks, heart failure, COPD, strokes, and more. McLaren Orthopedic Hospital is also home to the MSU Center for Orthopedic Research.
Many attending and resident physicians serve in MSU faculty appointments, actively instructing and mentoring Michigan State University medical students. More than 165 MSU physicians are on the McLaren Greater Lansing medical staff, and more than 50 MSU College of Nursing students trained at the hospital in 2016-2017.
Alongside the new hospital, there will also be a cancer center and ambulatory care center among other health care facilities to promote research, health care services, and educational opportunities within the community. Learn more about McLaren Greater Lansing's New Campus.
About MEDI+SIGN
MEDI+SIGN is a game-changing communication tool used by hospitals that are pursuing the creation, improvement, and sustainability of their quality and safety goals. Driven and perfected by evidence-based outcomes, MEDI+SIGN deploys strategies tailored to the hospital's specific needs and existing workflows. This unique approach allows hospitals to experience quality and safety transformations without negatively impacting the day-to-day workflow of staff. MEDI+SIGN is the first and only patient-facing technology in its class that requires zero effort from clinical staff while reinvesting time back to the bedside. With patient experience and complex psychology at the epicenter of this technology, patients are kept informed, satisfied, and safe. Beyond patient experience, MEDI+SIGN focuses on improving HCAHPS and increasing patient safety by preventing falls as well as other sentinel events related to HAC, among other CMS programs. To experience these results for yourself, visit MEDI+SIGN Displays.
*Cerner is a registered trademark of Cerner Corporation
*Vocera is a registered trademark of Vocera Communications
MEDI+SIGN is a registered trademark. © 2023 MEDI+SIGN® All Rights Reserved