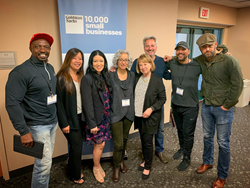 I have always wanted to contribute to my community, and I do that through my business.
MCMINNVILLE, Ore. (PRWEB) June 25, 2019
When former aerospace engineer Malee Ojua first studied graphic design, she did it just for fun. She never thought it would lead her to build a successful digital marketing agency or that Goldman Sachs would eventually select her for an exclusive business development program.
"I left my career as an aerospace engineer with Top Secret government security clearance in 1998 to be with my mother after her Stage IV breast cancer diagnosis," recalled Ojua. "Everything was moment to moment. I decided then that life is too short not to do what you are passionate about and what makes you happy."
Her passion drove Ojua to pursue a different path from her established engineering career, in which she successfully marketed multi-billion-dollar defense satellite systems to hundreds of military generals at a time.
"People have always asked me to design, to make everything look better. It's what I do without thinking." With her natural knack for design, Ojua went back to school and earned a degree in web development and design. In 2014, she established Sacred Fire Creative, LLC, a business she started from nothing and on her own.
"I mentioned at a women's networking event that I was starting a side business in web design. Next thing I know, four business owners came up to me, handed me checks and told me that I needed to register my business right away. That's how it all started," Ojua shared.
By 2015, Ojua was working full-time at her company. Corporate accounts started coming in by 2016, first the New York University Langone Medical Center, followed by Johnson & Johnson and ArisGlobal Health. By 2017, Sacred Fire Creative posted six-figure revenues. And, in 2018, the company experienced 117% business growth.
"For me, this is the American Dream—that you can achieve success with persistent hard work and determination no matter what obstacles are in your way," said Ojua.
"My parents are immigrants who came to the US separately, bringing with them only the clothes on their backs. Together, they built a grocery business and worked hard so that my brother, my sister, and I could live a good life," Ojua said. "They taught us the value of hard work and the importance of giving back to the country and community that took us in."
"I have always wanted to contribute to my community, and I do that through my business," said Ojua. "I started this business from scratch and figured it out through the help of other women business owners and mentors. I want to show that people like me—a woman, a daughter of immigrants, and a member of ethnic minority groups—can build a successful enterprise. I am excited to give back and inspire other women and minorities like me to do the same."
In 2017, Ojua applied for the prestigious Goldman Sachs 10,000 Small Businesses program, also known as 10,000 Small Businesses or 10KSB. This education and mentorship program for entrepreneurs was developed by finance industry leader Goldman Sachs in partnership with Babson College in Wellesley, Massachusetts.
She was one of under 150 business owners invited to participate in the program from over 800 applicants.
"Being chosen to participate in 10KSB is an amazing opportunity," said Ojua. "It opened my eyes to new avenues of growth I'd never even considered before."
Goldman Sachs created 10KSB in 2009 with the belief that giving small business owners access to education, capital, and support is the optimum way to overcome barriers to their growth. The program's scholars take part in a condensed and intensive MBA-like training lasting 12 weeks. The training includes guidance in building a customized growth plan, one-on-one counseling, membership to a peer support network, and support from leaders in the business world.
"These business owners represent the best of the US economy. This program helps them grow their business, create new jobs, and strengthen our communities. Nearly 70% of participants increase revenues and 50% create new jobs just six months after graduating," said Babson College's Richard T. Bliss, the National Academic Director of Goldman Sachs 10,000 Small Businesses.
With her 10KSB diploma firmly in hand, Ojua is back in McMinnville, OR and has set her sights on certifications for her business that would allow her to offer graphic design services to government agencies on the federal level.
"I'm applying for federal SBA 8(a) Business Development Program as well as acquiring SBA Women-Owned Small Business (WOSB) Program certifications. Also, I'm renewing our Certification Office for Business Inclusion and Diversity (COBID), Women Business Enterprise (WBE), Minority Business Enterprise (MBE), and Emerging Small Business (ESB) certifications."
"We're aiming to get listed on the US General Services Administration (GSA) Schedule for Advertising and Integrated Marketing Solutions (AIMS). This will allow government buyers to purchase directly from us with pre-established pricing, terms, and conditions."
According to Ojua, there are no other currently certified graphic design agencies in Oregon on the GSA Schedule. Sacred Fire Creative is additionally qualified for the HUBZone (Historically Underutilized Business Zone) Program certification, which even fewer agencies hold. Having these certifications, said Ojua, would further separate her company from its competitors.
"As someone with past experience working with government agencies, I truly believe we have the qualities that government buyers on the federal, state, and local level are looking for in their contractors. It's an opportunity we are excited to explore," Ojua said.
Sacred Fire Creative is a digital marketing agency that provides a wide range of business development services, including graphic design, web design and development, social media management, and content marketing. For more information about Sacred Fire Creative and Malee Ojua, please visit http://www.sacredfirecreative.com.