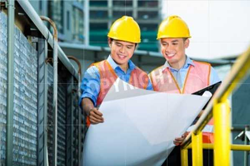 SANDY, Utah (PRWEB) April 30, 2019
McNeil Engineering, a Sandy, Utah-based engineering firm, is re-launching their construction administration services for the second half of 2019. These project management services help customers with everything from assistance with the construction bidding process to ensuring quality control on everything from roofing, paving, and landscape jobs. This helps guarantee that customers are working with reliable and respected contractors, get competitive pricing, and can track progress towards completed progress that exceeds expectations.
Construction administration is one of the most vexing problems facing construction companies today. Fortunately, McNeil Engineering provides a one-stop-shop solution for construction administration, no matter the project. As we move deeper into 2019, McNeil Engineering is putting a renewed focus on assisting construction companies in working on projects both large or small. The services provides simply cannot be beat, regardless of the project type or scope.
Administration services include:

Document management
Project bidding supervision
QC/QA monitoring
Site inspections
Project observation and reporting
Invoice evaluation and approval
The administration services provided by McNeil Engineering help ensure that construction projects run on time and on budget with less stress for owners.
Matt Roblez is available to talk about this and other engineering services. Please email Roblez at matt(at)mcneileng.com for more information.
About McNeil Engineering
For 35 years, McNeil Engineering has provided comprehensive design services including civil engineering, structural engineering, land surveying, high-definition scanning (HDS), landscape architecture and consulting services to the private and public sectors. The company is committed to delivering timely, responsive and economical design solutions to each and every one of their clients. For McNeil Engineering, project deadlines are an absolute, not a goal. For more information visit https://mcneilengineering.com/contact/mcneil-engineering/