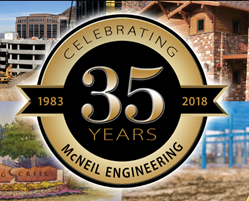 SANDY, Utah (PRWEB) December 20, 2018
McNeil Engineering, a Sandy, Utah-based engineering firm, wants to thank the community for another great year of projects large and small, in both the private and public spheres. This year will mark 35 years that the McNeil team has been working on civil and structural engineering projects, landscape architecture, construction administration, and much more in communities throughout the intermountain west.
Most recently, the McNeil Engineering team has had a hand in shaping the Wasatch Front community as a major partner in the ongoing Salt Lake Airport redesign and improvements, the redesign of the Cottonwood Mall site, through consulting and upgrade work made to local historic landmarks, in site development for urban housing and transportation, and on the planned Food Alley project in South Salt Lake City.
Additionally, the engineering team at McNeil has been available for projects throughout the western United states, as well as internationally.
The team is available to help with public projects for municipalities, historic preservation, private projects, and consulting.
Information about the McNeil team, services available, and more can be found on the company website at http://mcneilengineering.com. Please don't hesitate to visit the McNeil Engineering website for a full portfolio of work.
Matt Roblez is available to talk about this and other engineering topics and services. Please email Roblez at matt(at)mcneileng.com for more information.
About McNeil Engineering
For 35 years, McNeil Engineering has provided comprehensive design services including civil engineering, structural engineering, land surveying, high-definition scanning (HDS), landscape architecture and consulting services to the private and public sectors. The company is committed to delivering timely, responsive and economical design solutions to each and every one of their clients. For McNeil Engineering, project deadlines are an absolute, not a goal. For more information visit https://mcneilengineering.com/contact/mcneil-engineering/