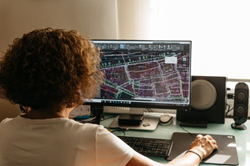 SANDY, Utah (PRWEB) April 02, 2019
BIM stands for Building Information Modeling and allows for the creation of a digital representation of the physical and functional characteristics of a structure. These three-dimensional models of a building help designers, engineers, and construction teams during all phases of building, including construction and maintenance. McNeil Engineering is proud to offer cutting-edge BIM modeling within many different project types.
BIM gives stakeholders reliable information – such as complete aspects of a building, including materials, plumbing, wiring, ducting, heating and air conditioning and all operational systems –to enable better decision making throughout a project, from the earliest concept all the way through demolition. Gone are the days when project coordinators had to rely on outdated methods to verify their projects. McNeil Engineering's BIM methodology is built on a robust underlying structure and is implemented using industry-tested software tools.
Some major benefits of BIM include improved building quality, reduced costs, fewer errors, and reduced project time, which is why McNeil will be emphasizing this tool in construction and engineering projects. Expect to bring your construction project to a new level with BIM modeling and McNeil Engineering.
Matt Roblez is available to talk about this and other engineering topics and services. Please email Roblez at matt(at)mcneilengineering.com for more information.