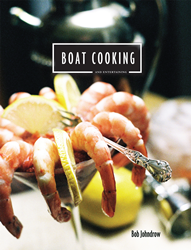 This is a book intended for those who wish to learn to cook and entertain with style
MINNEAPOLIS (PRWEB) August 24, 2019
Boating enthusiast and foodie Bob Johndrow shares his techniques for those preparing epic dishes from tiny kitchens in Boat Cooking and Entertaining ($36.99, hardcover, 9781545667255; $9.99, eBook, 9781545667262). He proves that you don't need to have a lot of space in order to create a memorable experience for your guests.
Johndrow specializes in fresh recipes, rather than depending on canned or processed ingredients.
"This is a book intended for those who wish to learn to cook and entertain with style, while cooking in a tiny kitchen," said Johndrow.
Bob Johndrow enjoys cooking and boating. He combines years of restaurant industry experience cooking, catering, and entertaining with the organizational skills necessary to create recipes that are flavorful, yet simple.