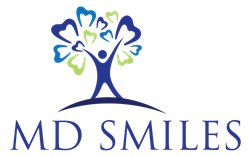 The new website will provide an easy way to interact with the practice and also read about our services or additional technologies.
ELLICOTT CITY, Md. (PRWEB) February 03, 2021
Jennifer Sokolosky, DMD and her team at MD Smiles are pleased to announce the launch of their practice's new Hybrid-Responsive™ website: https://www.mdsmiles.com. The new website improves the practice's digital presence, allowing for easy navigation and viewing on a variety of devices.
According to Dr. Sokolosky, "The new website will provide an easy way to interact with the practice and also read about our services or additional technologies."
As with all of Dr. Sokolosky's services, patient experience is at the forefront with the new website design. The Hybrid-Responsive™ layout renders equally well on desktop computers, laptops, and mobile devices, which means wherever patients are, they can easily access the information they need.
In addition to working on the new website launch, Dr. Sokolosky and the MD Smiles team have been updating practice protocols in response to the COVID-19 pandemic. While their infection control processes have always exceeded CDC guidelines, the nature of the novel coronavirus has demanded additional safety measures. At MD Smiles, these measures include:

Installing the Surgically Clean Air medical-grade air purification system, which uses six-stage filtration to remove particulates and allergens from the air and kill bacteria, viruses, mold, and fungi.
Coating the office in Vytis Shield, a surface coating that continuously provides a 99.13% reduction of bioburden to lower the risk of disease transmission.
Utilizing an ultra-low volume fogger, which generates a mist that kills pathogenic microbes, including viruses, fungi, and bacteria. This mist is able to reach inaccessible parts of the office, where conventional cleaning methods cannot.
Incorporating extra suction devices throughout the office to capture airborne particles during dental work.
Both the updated website and the COVID-19 safety measures demonstrate Dr. Sokolosky's commitment to providing exceptional care to her patients.
About Jennifer Sokolosky, DMD
Dr. Jennifer Sokolosky has been providing high-quality family dentistry in Ellicott City since 1995. A graduate of Tufts University School of Dental Medicine, she was a Pediatric Dental Fellow at Children's Hospital in Philadelphia and completed Advanced Education in General Dentistry at Stony Brook in Long Island, NY before opening her own practice. She specializes in preventative, cosmetic, and restorative dentistry.
About Seung Paik, DMD
A board-certified prosthodontist, Dr. Seung Paik joined MD Smiles in 2018, bringing with him a passion for providing exceptional care to patients. He specializes in implant-supported dentures and full mouth rehabilitation. Dr. Paik earned his dental degree and completed his specialty training in prosthodontics at the University of Maryland Dental School, where he currently works as a clinical assistant professor.
About MD Smiles
MD Smiles is a family dental practice that provides comprehensive services to patients of all ages, including preventative care, dental restorations, cosmetic dentistry, dental implants, and sleep apnea treatment. To learn more or request an appointment, visit the new website at https://www.mdsmiles.com, schedule a visit to the office at 9501 Old Annapolis Road, Suite 313, Ellicott City, MD 21042, or call 410-531-2690.