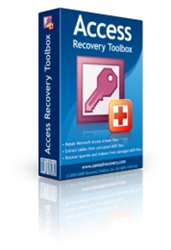 Recovery Toolbox for Access, a powerful MDF repair solution that has now become even better.
Sacramento, CA (PRWEB) July 24, 2014
Recovery Toolbox, a leading developer of specialized data recovery tools for popular products and file formats, is proud to present a deeply reworked, optimized and improved version of Recovery Toolbox for Access. One of the company's key products, this MDB repair solution is capable of restoring the contents of the most seriously damaged databases. http://www.access.recoverytoolbox.com/
The new version of the program has undergone serious functional changes, the first one being the implementation of an all-new engine that dramatically increased the efficiency of database analysis and data extraction. The program supports Access databases in .mdb and .accdb formats, works with database files of any size and restores the most important database elements, including table data, structure of tables (fields and indexes), queries (except for report and form queries), relations and more. http://www.recoverytoolbox.com/help_access.html
The program is intended for a very wide audience, including novices who have never worked with an MDB repair solution, and therefore features a convenient wizard-based interface with a minimum of controls. The wizard guides the user through every step of the process, prompts for simple actions and requires just a few confirmation clicks to get to the final step. For user's convenience, the program has a simple database browser that enables them to preview the contents of the currently open file. http://www.recoverytoolbox.com/repair_access.html
The program will become an indispensable asset for any system administrator dealing with file corruption on a regular basis, especially in companies using MS Access a lot. For regular users, MDB repair solutions will translate into considerable savings compared with specialized data recovery services that often appear expensive and slow.
"Recovery Toolbox for Access is the best in class MDB repair tool that can be used by people with and without experience with equal efficiency," noted Victor Bobrov, CEO of Recovery Toolbox. "We have just release a version based on our newest database analysis core and hope that our customers will appreciate the performance and quality gains it provides."
The free demo version of Recovery Toolbox for Access is available for download on the official website. http://www.recoverytoolbox.com/