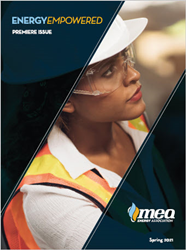 Member's stories are powerful. Leaders, who share insights, provide a benefit to the industry with their impactful advice.
BLOOMINGTON, Minn. (PRWEB) March 09, 2021
MEA Energy Association (MEA) is thrilled to announce our new magazine, 'Energy | Empowered'. Those seeking out the latest in industry trends, up-to-date news, and general information, will find 'Energy | Empowered' to be a great source.
Energy delivery is undergoing a fundamental transformation and the industry continues to provide reliable natural gas and electric service to the public—safely and effectively. Continuing to innovate and expand knowledge through shared stories, such as those found in 'Energy | Empowered', will better equip the industry to maintain and operate the energy infrastructure.
The premiere edition includes:

Member interviews with Henkels & McCoy and Kaltz Excavating
Articles on fleet maintenance from Ameren Illinois Company and leadership from KinderMorgan
And more
'Energy | Empowered', launching this March, reaches thousands of executives, managers, and operations personnel who are leaders in natural gas and electric distribution, pipeline operations, and energy related services. "With 'Energy | Empowered' being offered in both print and digital formats, our reach is amplified," said Patrick Van Beek, president of MEA. "Member's stories are powerful. Leaders, who share insights, provide a benefit to the industry with their impactful advice."
The magazine is produced quarterly and features interviews of energy delivery professionals, industry articles authored by members, MEA and member news, and more. To subscribe visit MEAenergy.org/mea-magazine. For advertising opportunities, contact Michael Holly of AMG*SMG at mike.holley (at) amgonline-us (dot) com, or (916) 378-5014. For questions regarding the magazine, contact Elizabeth Fischer, elizabethf (at) MEAenergy (dot) org, or (651) 289-9600 x108.
About MEA:
MEA serves the people that deliver electricity and natural gas to homes and businesses. We were founded as a trade association over 110 years ago by distribution utilities whose vision was to improve safety and efficiency. Today, we fulfill the same purpose through education, leadership development, and industry connections. Energy delivery companies, contractors, and suppliers around the country benefit from our 55 summits, roundtables, and webinars, 400+ online technical courses, safety assessments, evaluator training, operator qualification compliance tools, and leadership courses for field personnel.