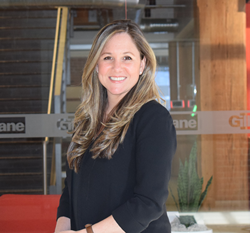 BOSTON (PRWEB) September 15, 2020
Gilbane Building Company is pleased to announce that Meagan (O'Hara) Charbonneau has joined the Massachusetts business unit as a business development manager.
Meagan brings 10 years of industry experience and engagement within the Massachusetts A/E/C community, recently serving in a business development capacity for Knoll and Fort Point Project Management in Boston. In her new role, Meagan will work to strategically enhance Gilbane's presence within the higher education and life science markets, while also expanding upon existing relationships with Gilbane's client base throughout the state.
Meagan is actively involved in industry organizations that include ISPE's Membership Committee, PWC's Sponsorship Committee, CoreNet's Golf Committee, and was past member of the board of IFMA. A native of Falmouth, Meagan recently relocated to Millis, Massachusetts with her husband and two children, where she looks forward to engaging with the community through charitable initiatives and community involvement. In her free time, Meagan enjoys cooking and playing golf.
"We are very excited to have Meagan join our team," said Vice President and Business Unit Leader Mike O'Brien. "Her reputation, knowledge, and relationships from years in the industry and community will be a tremendous asset to our efforts as we continue to work to expand Gilbane's higher education and life sciences portfolios of work."
About Gilbane Building Company
Gilbane provides a full slate of construction and facilities-related services – from pre-construction planning and integrated consulting capabilities to comprehensive construction management, close-out and facility management services – for clients across various markets. Founded in 1870 and still a privately held, family-owned company, Gilbane has more than 50 office locations around the world.