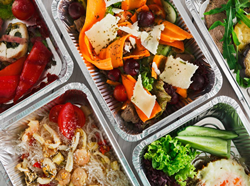 Does the thought of having a chef-quality meal at home sound appealing — especially if it only takes you three minutes to prepare it? If so, you'll definitely want to try Freshly
OVERLAND PARK, Kan. (PRWEB) December 30, 2020
TopConsumerReviews.com once again gave its best-in-class 5-star rating to Freshly, a leader among companies specializing in Meal Delivery.
This year, delivery services of every kind have exploded in popularity, from groceries to favorite fast food chains. For busy people, is there a middle ground between getting a bag of groceries they don't want to prepare and another high-calorie restaurant meal? The answer is "Yes!" Meal delivery companies make it simple to know exactly what's for dinner — or breakfast, lunch, and special occasions. These services are particularly beloved by those who are trying to adhere to a specific dietary plan, from paleo to gluten-free, with carefully-prepared meals that eliminate the guesswork of getting it right. Meal delivery services vary: some deliver all of the ingredients required to prepare easy-yet-flavorful meals at home, while others are heat-and-eat. The best meal delivery companies make sure to pack the food in such a way that it arrives fresh, chilled, or still-frozen — whichever way it should be to taste great and be 100% safe to eat.
"Does the thought of having a chef-quality meal at home sound appealing — especially if it only takes you three minutes to prepare it? If so, you'll definitely want to try Freshly," confirmed Brian Dolezal of TopConsumerReviews.com. "All of their meals arrive fresh, never frozen, and are always guaranteed to be 100% peanut- and gluten-free. This prepared meal service doesn't skimp on flavor, either: with 30 meals to choose from that include dinners like Steak Peppercorn and Sicilian-Style Chicken Parm, it's easy to see why Freshly's customers keep coming back for more. Subscribers really love being able to select their menus up to three weeks in advance, and to shift the number of weekly meals as needed. Freshly meals can also be delivered wherever you are, making this meal delivery service ideal for those who travel regularly and want to know that they can keep up their healthy eating habits while away from home. Freshly earns our highest recommendation once again, earning another five-star rating among providers of meal delivery services in 2020."
To find out more about Freshly and other online Meal Delivery services, including reviews and comparison rankings, please visit the Meal Delivery category of TopConsumerReviews.com at https://www.topconsumerreviews.com/best-meal-delivery-services/.
About Freshly
Freshly is a weekly subscription service delivering healthy and fully prepared meals directly to a customer's doorstep. The rotating weekly menu offers 30 different flavorful preparations and combinations that are chef-made with the highest quality, 100% all natural ingredients that meet industry leading standards. In addition to providing free shipping, Freshly uses advanced eco-friendly packaging technology to ensure that meals maintain freshness in transit. Freshly makes embracing a healthier lifestyle deliciously simple, one box at a time.
About TopConsumerReviews.com
TopConsumerReviews.com, LLC is a leading provider of reviews and rankings for thousands of consumer products and services. From Meal Delivery Services to Pet Sitters and Nanny Agencies, TopConsumerReviews.com delivers in-depth product evaluations in order to make purchasing decisions easier.