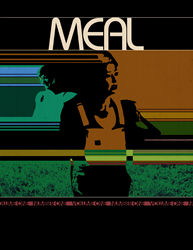 We strongly believe in the power of food and drink to bring people together.
MINNEAPOLIS (PRWEB) February 03, 2020
A Minneapolis-based team of writers and artists has launched Meal Magazine, a new print magazine serving up a bounty for every appetite. Unlike traditional food magazines, this bi-annual publication is compelling for die-hard foodies as well as those who enjoy long-form storytelling, evocative photography, and inspired graphic design.
Led by editor-in-chief, Peter Sieve, and co-founder and executive editor, Joshua Page, the publication celebrates our shared humanity with deep, meaningful stories about food and the people who grow, make, and eat it.
"We strongly believe in the power of food and drink to bring people together," said Page. "Which is why we set out to create a food magazine that tells stories about people building community, fighting for equality and justice, and caring for each other."
Added Sieve, "Meal Magazine is one of few publications that leans deeply into the artful, personal storytelling of how food brings us all together as people. It goes beyond traditional food magazine content by exploring the incredibly interesting nuances of what it means to be a human being—and food is a great vehicle for taking that tour."
Meal's inaugural issue takes readers on an inspiring, thirteen-course journey. From the political story of pupuserias in the U.S. to the chefs and bartenders crafting a new kitchen culture of care, a diverse team of award-winning writers, food critics, and artists from Minneapolis to Lima, Peru celebrate creative, authentic, and unconventional stories about food and society. Issue 1 includes firebrand bartender, Marco Zappia, named one of Forbes' "30 Under 30" in 2019; Soleil Ho, the San Francisco Chronicle's provocative new restaurant critic; three James Beard Foundation Best Chef nominees; and indelible portraits from internationally acclaimed photographer Bill Phelps.
The first issue of Meal is available now at meal-magazine.com and select stores, or by subscribing to the Meal Magazine Patreon.
About Meal Magazine
Meal Magazine is an independent bi-annual print publication that uses food and art as jumping off points to explore the critical social issues of our time, along with the nuances of what it means to be human—and humane—today. With thought-provoking investigative journalism, personal essays, colorful profiles, and striking art direction, we've positioned Meal as an accessible authority on matters of food, culture, and style. Within our pages, you'll find evocative stories to savor. Meal is creating a community for those who value art and creativity, political engagement, and social connection. To purchase the inaugural issue, visit meal-magazine.com or become a subscriber by joining the Meal Magazine Patreon.