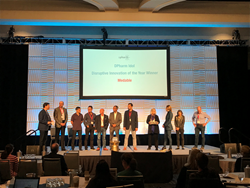 BOSTON (PRWEB) September 28, 2018
Medable Wins DPharm Idol 2018
Medable was named the winner of DPharm Idol at this year's DPharm: Disruptive Innovations to Advance Clinical Trials conference. Medable is a platform that aims to build the first human digitome, a digital representation of human health and disease, by removing the separation between clinical trial and real-world data through a seamless integration of all data sources. Dr. Michelle Longmire, Co-Founder and CEO of Medable, explained that their approach aims to transform clinical trials by building a connected team of researchers and patients by providing rich digital experiences on their mobile app for the patient. Through the digitome, they hope to transform the idea of health from a binary perspective to one that is complex and includes actionable, real-world insights.
Medable had six minutes to present their goals in disrupting the current paradigm of clinical trials and pitch their product to DPharm's esteemed panel of judges, which consisted of:
Esther Dyson
Executive Founder, Way to Wellville
Sandra Freeman
Associate Director, Global Clinical Operations, Johnson and Johnson
Cindy Geoghegan
Patient Advocate
Rob Goodwin
VP, Operations Center of Excellence, Global Product Development, Pfizer
Christian Gossens, PhD, MBA
Global Head Early Development Workflows, pRED, Informatics, Roche Pharmaceutical Research and Early Development (pRED)
Hassan Kadhim, MSc
Senior Associate Director, Head, IT Clinical Trial Planning & Management, Boehringer Ingelheim Pharmaceuticals, Inc
Joseph Kim, MBA
Sr Advisor, Patient Experience and Design Innovation Design Hub Foundations, Eli Lilly and Company
Jacob LaPorte, PhD
Head of Digital Development, Novartis
Chandra Ramanathan, PhD, MBA
Head, East Coast Innovation Center, Bayer, US
Dan Rothman
Chief Information Officer, Roivant Sciences
John Varaklis
Head of Global Clinical Operations, Roche Pharmaceutical Research and Early Development (pRED)
The judges liked Medable's idea of a human digitome providing a new possibility to explore data that did not exist before, by creating an ecosystem of the patient's data both in clinical trials and in the real world. Several of the judges made comments about the potential of the digitome to transform healthcare, with Hassan Kadhim explaining that the technology is "very much futuristic and we'd love to see it implemented."
The panel of judges deliberated for two hours to determine the winner. The judging process was not easy, as Esther Dyson commented, "I gave a five to everyone on the list, in the terms that they were all solving a lot of problems we have within clinical trials." Although they were triumphant, Medable had strong competition from our other DPharm Idol presenters:
Edetek
Peter Smilansky, SVP of Product Strategy
Quest Diagnostics
David Freeman, MBA, General Manager, Information Ventures
WCG
Steven Beales, SVP IT and Market Owner, Safety Solutions
Clinical Pipe
Amit Shah, Founder and Chief Technology Officer
BioSensics
Joseph Gwin, PhD, VP of R&D
DPharm Idol is the signature event that took place at the 8th annual iteration of DPharm: Disruptive Innovations to Advance Clinical Trials. DPharm, organized by the Conference Forum, reports on industry and out of industry innovation and how to change the paradigm of clinical trials to reduce the burden to patients and investigators, streamline processes and ultimately get therapeutics to patients faster. DPharm connects pharma, biotech, clinical research partners, as well as patient advocacy to inspire and encourage the most innovative technologies and ideas in clinical trials and drug development. Mark your calendars for next year's event, which will be held September 17-18, 2019 in Boston.
About the Conference Forum
The Conference Forum is a life science industry research firm that develops conferences primarily around how to get therapeutics to patients faster. They examine and challenge the complex ecosystem of drug development and delivery, bringing ideas together from a variety of sources to help advance clinical research with common goals that are patient-focused. For more information, visit http://www.theconferenceforum.org
About Medable:
Medable is about transforming health care by providing an enterprise platform for "Direct-to-Patient" clinical care and clinical trials, enabling patient-generated data to drive health care delivery, research and personalized and predictive medicine. For more information visit http://www.medable.com