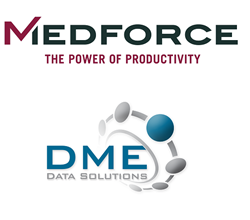 The ability for us to have data flow seamlessly between our Medforce and DME Data Solutions' applications has saved us a ton of time.
San Diego, CA and Suffern, NY (PRWEB) August 01, 2017
Medforce Technologies and DME Data Solutions, leading providers of productivity software to the Durable Medical Equipment industry, announced a strategic partnership to deliver providers an end-to-end solution for business management that improves efficiency, increases productivity, and boosts profitability.
The alliance between the two companies enables providers to assemble a best-of-breed approach to technology at an affordable price. Between the two companies there are over a dozen software modules focused on minimizing manual efforts, improving automation, and freeing up resources to focus on strategic activities.
"The ability for us to have data flow seamlessly between our Medforce and DME Data Solutions' applications has saved us a ton of time," states Liz Dean, Manager of a regional DME provider. "Our employees can stay focused on providing the best customer service possible, because all the information they need is available at their fingertips and is updated automatically."
DME Data Solutions brings to the table inventory, billing, and patient contact management solutions. Medforce offers document management, workflow automation, denial management, and electronic signature among others. Automated data exchange and integration eliminates duplication data entry and keeps operations running at a real-time pace.
"The partnership with Medforce was a no-brainer for us," says DME Data Solutions' founder Ken Ravazzolo. "We're both focused on helping providers take advantage of operational efficiencies that lead to greater profitability, while not charging and arm and a leg to do so. We each fill gaps in each other's portfolio and together can deliver a full suite of software and services for the benefit of DME providers."
"At Medforce, we strongly believe in giving providers the flexibility to build the exact operational backbone they need to service their unique markets efficiently and effectively," says Ellen Sluder, VP of Marketing at Medforce Technologies. "This partnership with DME Data Solutions builds on our ability to deliver on that mission. Both companies want providers to have access to the best tools that will deliver the highest return on their technology investment as evidenced by lower costs and increased revenue."
About Medforce Technologies
Medforce Technologies provides process and document management software to improve the efficiency and productivity of healthcare back-office operations. We work across all departments (from intake and claims to mailroom, AP, AR, and HR) ensuring the highest priority work is always completed first and resource allocation is optimized to maximize your bottom line. Each of our modular products is built to be flexible and customizable, allowing healthcare organizations adapt quickly to change and do more with less. To learn more about the power of productivity, visit http://www.medforcetech.com .
About DME Data Solutions
DME Data Solutions is a leading developer of software applications for DME providers. The company's flagship product, IMS, is an affordable and easy-to-use inventory, patient management, and billing system that utilizes barcode technology and emphasizes par-level reordering and resupply. IMS is currently installed in hundreds of locations throughout the U.S. and Canada. For more information, please visit http://www.dmedatasolutions.com or call 855.723.7700.