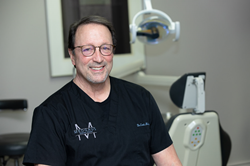 Often, people do not understand the large-scale effects that crooked teeth have on overall health and wellness.
MONROEVILLE, Pa. (PRWEB) May 22, 2019
Drs. Carl Medgaus and Maelys Aguila, of Medgaus Dental Group, invite new patients in Monroeville, PA to discover the advancements in orthodontics provided by Invisalign®. A series of clear aligners, Invisalign straightens teeth without the hassle of bulky metal brackets and wires. This revolutionary treatment not only improves smiles, but transforms patients' overall health.
Often, people do not understand the large-scale effects that crooked teeth have on overall health and wellness. For example, crowded lower teeth rub against upper teeth, causing unnecessary wear to tooth enamel. Similarly, crooked teeth are commonly related to jaw misalignment, which can lead to chronic headaches and neck pain. Out of place teeth also cause more gum recession and increase the risk of tooth injury in the event of an accident.
As an alternative to traditional metal braces, Medgaus Dental Group offers discreet and comfortable Invisalign aligners. The Medgaus Dental Group's Invisalign treatment offers a high level of customization and predictability. Their Invisalign process begins with impressions of a patient's teeth, taken by the practice's state-of-the-art iTero® digital scanner. This scanner eliminates the need for messy, putty impressions. The scanned images are used to create a digital blueprint of how each tooth must move in order to achieve a beautiful, straight smile. This blueprint also predicts the exact time it will take to achieve complete alignment for each patient.
From the blueprint, the dentists create a series of clear aligners that patients wear for 20-22 hours a day. Patients can remove the aligner to eat, brush, and floss, and for important social engagements. As patients replace their aligners every two weeks, their teeth straighten into alignment as planned from the initial consultation. Because of the precision and predictability of Invisalign, patients can experience fully straightened teeth much quicker than traditional braces allow, often in months rather than years.
With over 35 years of orthodontic and cosmetic dentistry experience, Dr. Medgaus is a certified Invisalign provider. He has successfully helped many patients achieve their desired smile through this comprehensive orthodontic treatment. His patients are thrilled with both the improvement to their facial aesthetic and their overall health. Dr. Medgaus provides Invisalign, in addition to other advanced cosmetic dentistry services, at his offices in Monroeville and Pittsburgh, PA.
Patients with gaps in their teeth or crooked teeth who are looking for Invisalign treatment in Monroeville or Pittsburgh, PA can connect with Drs. Medgaus and Aguila for an Invisalign consultation by calling 412-373-0310 or visiting http://www.medgausdentalgroup.com.
About the Dentists
For over 35 years, Medgaus Dental Group has been serving the Monroeville and Pittsburgh, PA areas with genuine and comprehensive dental care. Founder and lead dentist, Dr. Carl Medgaus, is dedicated to continuing education for himself as well as his fellow clinicians. Having treated over 300,000 patients since 1973 and placing over 5,000 dental implants, his results speak for themselves. His associate, Dr. Maelys Aguila, is a native Spanish speaker who shares the same philosophy that changing a smile can change a life. Developing his own full arch dental implant technique, Stabili-Teeth™ Dr. Medgaus and his team also offer life-changing smile makeovers and gum disease treatment, among other services. To learn more about Drs. Medgaus and Aguila, their leading-edge practice, or the services they offer, visit http://www.medgausdentalgroup.com or call their Monroeville office at 412-373-0310 or their Pittsburgh practice at 412-563-6333.