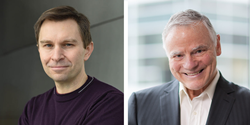 "Aging isn't inevitable, but it is the key to slowing all diseases." – ISB Co-founder Dr. Lee Hood
SEATTLE (PRWEB) April 14, 2021
Harvard Medical School Professor Dr. David Sinclair will join genomics pioneer Dr. Lee Hood for a livestream conversation on Thursday, April 15, at 9 p.m. ET/6 p.m. PT.
The two researchers will discuss the very latest in aging research and answer questions in an event titled "Why We Age – And Why We Don't Have To."
Tickets for this event are $5. Those interested in attending can register here: https://townhallseattle.org/event/dr-david-sinclair-with-dr-lee-hood-livestream/. This virtual event is the latest put on by Town Hall Seattle and Institute for Systems Biology.