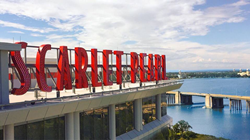 "Scarlet Pearl is the nation's new home for the biggest bets," said CEO LuAnn Pappas. "We'll speak with any guest who wants to place a large bet, whether it's in our sportsbook, on our tables, or at our slot machines. We don't sweat the money."
D'IBERVILLE, Miss. (PRWEB) October 08, 2019
Following Jim 'Mattress Mack' McIngvale's record-breaking $3.5-million bet last week on the Houston Astros to win the 2019 World Series, Scarlet Pearl Casino Resort today (Tuesday) accepted another seven-figure wager. The $1-million bet is for the American League to win the World Series; a possible $1.7-million payout to the winner.
"Scarlet Pearl is the nation's new home for the biggest bets," said CEO LuAnn Pappas. "We'll speak with any guest who wants to place a large bet, whether it's in our sportsbook, on our tables, or at our slot machines. We don't sweat the money."
This marks the second-largest single bet in Mississippi Sportsbook history, and the second record-setting bet placed in the state in just the last eight days. Both bets have occurred at Scarlet Pearl Casino Resort, the newest casino resort on the Mississippi Gulf Coast.
For Interviews with LuAnn Pappas, CEO, Scarlet Pearl Casino Resort, please contact:

Laura Hasty at 228-388-9830, laura@theadgroup.net
Andy Hurt at 228-388-9830, andy@theadgroup.net
Visuals from last week's record-breaking wager:

About Scarlet Pearl Casino Resort:
Scarlet Pearl Casino Resort (scarletpearlcasino.com) is a privately held company based in D'Iberville, MS. The casino resort offers over 950 slots, 33 table games, 300 hotel rooms, multiple restaurants, an event center, a luxurious pool, and a miniature golf course. In 2018, the property opened DraftKings at Scarlet Pearl Sportsbook, a collaboration between Scarlet Pearl Casino Resort and DraftKings.