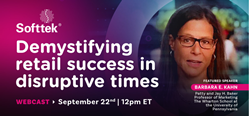 Barbara E. Kahn will unpack her Retailing Success Matrix and share strategies for meeting the needs and expectations of today's consumers.
DALLAS (PRWEB) September 15, 2020
Softtek, a global company dedicated to helping organizations evolve through digital technology, to present a live webinar entitled "Demystifying Retail Success in Disruptive Times: Unpack the Retailing Success Matrix with Barbara E. Kahn."
WHEN:
September 22nd, 2020 at 12pm ET / 9am PT
WHY ATTEND:
The global pandemic posed insurmountable challenges for many retailers. However, a handful of retailers have survived and even thrived despite these unprecedented times. What makes these companies better positioned to weather the storm and what can we learn from their marvelous success?
Distinguished Marketing Professor at the School of Wharton Barbara E. Kahn will discuss her research and perspectives on the shopping revolution, and how retailers can win customers in an era of endless disruption.
Attendees will:
-Review the Kahn Retailing Success Matrix and the secrets behind the success of retailers like Amazon and Walmart.
-Learn how successful brands have differentiated themselves by creating an exceptional customer experience and competitive edge.
-Get tips for how to survive and thrive in today's disruptive environment.
Speakers:
-Barbara E. Kahn, distinguished professor, School of Wharton, University of Pennsylvania
-Miguel Saldivar, managing director, retail sector, Softtek
Learn more and register for the complimentary webcast here.
About Softtek:
Founded in 1982, Softtek is a global company and the largest provider of IT services from Latin America. With a broad portfolio of business-transforming products and solutions, Softtek helps Global 2000 organizations evolve their digital capabilities constantly and seamlessly, from ideation and development to execution. Learn how Softtek creates value through technology at softtek.com and connect with @Softtek in social media.