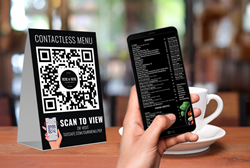 QR codes allows our team at Media Explode to help businesses be able to provide their menus, brochures, pamphlets, and even forms to sign - in a digital way that's cognizant of the current social-distancing needs & ensures the safety of everyone involved.
BROOKLYN, N.Y. (PRWEB) August 13, 2020
QR codes have been around for years, and while they've gotten quite a bit of traction, they never managed to break into the mainstream, that is, until now. Social distancing may well offer the best chance for bringing the COVID-19 outbreak under control; and that means many businesses and their patrons are focused on trying to reduce contact and general proximity. However this poses a significant change to a local standing staple at almost every restaurant - the physical menu.
Media Explode, a local marketing agency in Brooklyn, NY, has the solution and has been leading the way by using QR codes in the fight against COVID! Allowing local restaurants & businesses to continue to offer their menus, brochures, and even business cards, in a safe & digital way.
For a bustling restaurant in Brooklyn, NY - social distancing means spacing clients out, with at least 6 feet between tables. It means doing everything you can to minimize contact, and that means finding a new way to offer customers menus, business cards, and loyalty cards. A physical menu travels from patron to patron – and creates a possible surface for infection. Here is where Media Explode came to the rescue with their contactless menu solution through the use of QR codes.
Through the use of QR codes, Media Explode sets up a business with a digital menu, accessible via various tabletop displays & stickers. Anyone who scans it gets direct access to a digital version of that restaurant's menu – using their own mobile device.
Michael Boguslavskiy says "Here at Media Explode we've been helping businesses launch successful digital & physical marketing campaigns with QR codes for years, however we've seen exceptional growth during this crisis, & rightfully so. QR codes allow many businesses to continue providing menus, brochures, pamphlets, and even forms to sign - in a digital way ensuring the safety of everyone involved."
If your unsure how QR codes can be used to help your business during this time - get in touch with the team at Media Explode today at (212) 744-2070 and they'll happily discuss with you the best way to use QR codes creatively to help your business thrive during these times.