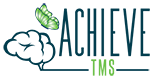 SAN DIEGO (PRWEB) August 05, 2019
Achieve TMS, the nation's most trusted deep Transcranial Magnetic Stimulation (dTMS) provider, will begin offering treatments at its La Jolla center using a state-of-the-art and FDA-approved Neuro-Navigation system for patients with depression, OCD and other conditions.
This is the first such system available in San Diego. Achieve TMS will hold a demonstration event for interested media at 5:30 pm on Thursday August 8, 2019 at Achieve TMS La Jolla, located at 4510 Executive Drive, Suite 111, San Diego, 92121. Space is limited and advance notice is required via lsegall(at)achievetms.com.
The informative event will include an introduction and medical explanation of MRI-guided brain mapping neuro-navigation transcranial magnetic stimulation (TMS) system for treating major depressive disorder (MDD) and other treatment-resistant neuropsychiatric conditions. Achieve TMS La Jolla and Drs. Lindsay Oberman, Manish Sheth and Shashita Inamdar will lead the discussion.
MRI-guided neuro-navigation has been successfully used for over 20 years in complex neurosurgical procedures. Now, for the first time, this technology is available via Smart Focus TMS by Nexstim to provide ultra high precision TMS treatment of complex and treatment-resistant neuropsychiatric conditions such as depression, OCD, TBIs, Autism, Addictions and ADHD. This treatment option is now available at Achieve TMS La Jolla.