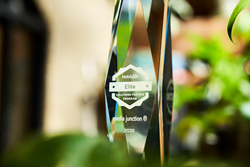 "media junction® is a shining example of helping customers grow better. They have been a top HubSpot partner for nine years with deep expertise in website design, sales enablement, and branding. As our first female-founded elite partner, they are an inspiration, and I'm proud to have them as a leade
SAINT PAUL, Minn. (PRWEB) August 12, 2020
media junction®, a full-service creative agency specializing in sales and marketing digital solutions, has been named an Elite HubSpot Solutions Partner, placing them amongst the top 1% of HubSpot Solution Partner agencies in the world.
To reach the Elite level, Partners must have a proven track record of mastery and maximizing the value customers gain from the HubSpot platform.
"media junction® is a shining example of helping customers grow better. They have been a top HubSpot partner for nine years with deep expertise in website design, sales enablement, and branding. As our first female-founded elite partner, they are an inspiration, and I'm proud to have them as a leader in our partner community." - Katie Ng-Mak, VP, Solutions Partner Program, HubSpot
media junction® was founded in 1997 to help businesses establish an online presence. In 2011 they became a HubSpot partner and quickly earned a reputation for being one of HubSpot's most technical solutions partners. Today the team works with companies of all sizes from startups to enterprise across a wide variety of industries.
The partnership with HubSpot allows the media junction® team to architect solutions to help HubSpot customers run more efficiently, reduce friction within their business, and create a unified source of truth for their data.
"The real story behind this accomplishment is where the team was 18 months ago. As the CEO I was facing several business challenges, including internal culture, increased competition, and commoditization of some of our services, which lead us down the road to re-evaluate our company from the inside out." Trish Lessard, CEO
In early 2019 the leadership team read "Building a Storybrand" by Donald Miller. The book inspired them to reinvent not only their own messaging, but to become a Storybrand Certified Agency Partner to inspire companies of all sizes to find their voice.
"We've implemented the Storybrand framework into the core of our business. StoryBrand has been immensely helpful in getting our team to think about content in a different and more meaningful way. I had no idea when we started this process that we'd use it in every project, and it's led to some pretty outstanding results thus far for our clients, " remarks Ben Longlies, a StoryBrand Expert at media junction®.
The media junction® team clarified their message, found their purpose, and reimagined the customer experience. They set out to become the agency their customers would love and establish what the agency of the future should look like. The agency rolled out flexible services that adapt to their customers' needs.
"What has inspired me the most about being named an elite partner is the number of clients that have entrusted us to lead their growth strategies. We couldn't have achieved this without them and I want to thank them, our team, and HubSpot". Sean Royer, VP of Sales
With everything that is going on in our world right now the team is hopeful for a brighter and stronger future, and noted a quote that inspired them from Meagan Kearney Anderson, VP of Marketing, HubSpot. Meagan said "I hope this time will be remembered by businesses as "The Great Acceleration" — a time when companies in every industry and region underwent a rapid digital transformation that defined a new economic era."
"To see so many companies flocking to HubSpot right now is pretty inspiring, especially during a pandemic. It's rewarding as a Solution Architect to help as many people as we can solve their pain points and reduce operational inefficiencies with the HubSpot platform. " Kim Wilcox, Vice President.
About media junction®:
media junction® is a full-service creative sales and marketing tech agency located in Saint Paul, Minnesota. Recognized worldwide as one of HubSpot's most technical, top-tier Partners. In 2018, the agency was named one of the fastest-growing companies in the US by Inc 5000 and recognized locally as #20 on the Fast50 list of the fastest-growing private companies in Minneapolis/St. Paul). Media Junction is known worldwide for building websites that get results.
Learn more about media junction® here:
https://www.mediajunction.com
About HubSpot:
HubSpot is a leading growth platform. Since 2006, HubSpot has been on a mission to make the world more inbound. Today, 78,500+ customers in more than 120 countries use HubSpot's award-winning software, services, and support to transform the way they attract, engage, and delight customers. Comprised of Marketing Hub, Sales Hub, Service Hub, CMS Hub, and a powerful free CRM, HubSpot gives companies the tools they need to Grow Better."
Learn more about HubSpot here:
https://www.hubspot.com/