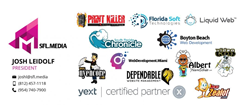 "We take a very media based, permanent organic content driven approach to SEO." - Josh Leidolf President of the South Florida Media
MIAMI (PRWEB) December 03, 2018
SFL.Media specializes in Website & App Design,Custom Articles/Content, National Press Releases, Digital Marketing (SEM/SEO), Full Scale Extensive Social Media Management: Google Adwords/Facebook Ad Campaigns, Social Media Campaigns, Specialized Social Media Bots, Internet Directories, API Builds and Connections, Hosting, Internet Security, Daily Updates, Emails and Blogs.
Our clients include some of the largest e-commerce online stores, real estate companies, hedge funds, professional sports teams and athletes, medical software companies, internet security firms, interior designers, TV personalities, political campaigns, As Seen on TV products, famous artists, heavyweight boxing promoters, doctors, lawyers, and of course bars, restaurants, and hotels in South Florida, California, New York and the Midwest.
As South Florida's technology leader we employ custom coders, WordPress experts, server specialists, graphic designers and a whole team of assistants, account managers, and systems administrators right here in sunny South Florida. All to make sure that your website development project has a local team that you can count on. At SFL.Media, we pride ourselves on our professionalism. We don't meet deadlines. We beat them!
Most importantly at SFL.Media, we will help you build a modern advertising campaign online that can run across multiple mediums. Our online marketing plans include Google Adwords (SEM), Search Engine Optimization (SEO), Online Article Placement, and Social Media Advertising. At SFL.Media our goal is to find the perfect tone and location for your advertising to make your business as successful as it can possibly be online.
"We take a very media based, permanent organic content driven approach to SEO. As opposed to the incredibly expensive world of temporary ads provided through organizations such as Google and Facebook. This is just a portion of our internet arsenal, not the foundation of it. We own many high ranking online media publications and employ dozens of professional journalists to ensure the highest quality, organic and permanent, custom content created on the internet today," says President Josh Leidolf.
When you're a client of SOUTH FLORIDA MEDIA, you can rest easy knowing that you have a full tech team at your disposal twenty-four hours a day, seven days a week. When our clients get into the office every morning they see that their website is up and running correctly. They also see that their website's blog and social media accounts have all already been updated with fresh content, leaving you the entire day to focus on your business, employees, and customers.
You know, the important stuff!
We provide your business the ability to have a full tech team on staff at a fraction of the cost of hiring one qualified web developer. Quite honestly put there is no better value for your business than a website management plan from Dependable Website Management. Not only does it replace the expense of added employees with a tax deduction, it also gives your company access to an extremely qualified tech team with multiple years of online experience.
For business owners in the know, SOUTH FLORIDA MEDIA is already a household name. How long are you going to wait to put the power of the internet behind your company or brand? Call us today and get an edge-up on the competition before it's too late! Email joshl@sfl.media or Call Now For Immediate Service: (812) 457 – 1118
To continue reading please click here