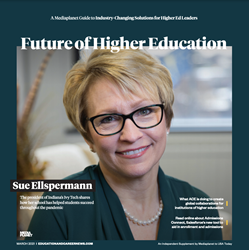 NEW YORK (PRWEB) March 26, 2021
Mediaplanet today announces the launch of its cross-platform campaign "Future of Higher Education." With the spring semester underway of what has been a highly unusual school year, students, administrators, educators, and parents are all faced with questions about the future of higher education as we know it.
This campaign aims to provide insight into the leading challenges of the past year and presents creative solutions put in place and available going forward for making the higher education experience more seamless and successful. "Future of Higher Education" serves as a resource for university decision-makers as they plan their 2021 budgets, and invest in leading tools and technologies.
The print component of "Future of Higher Education" is distributed within today's edition of USA TODAY in the Chicago, Atlanta, Philadelphia/Baltimore, Houston, Detroit, New York, Washington DC, Cincinnati, New Orleans, Dallas, Pittsburgh, Carolinas, Boston, South Florida, Denver, Seattle, and Los Angeles markets, with a circulation of approximately 200,000 copies and an estimated readership of 600,000. The digital component is distributed nationally through a vast social media strategy, and across a network of top news sites and partner outlets. To explore the digital version of the campaign, visit educationandcareernews.com/campaign/future-of-higher-education.
Dr. Sue Ellspermann, president of Ivy Tech, Indiana's only full-fledged community college, is featured on the cover of the print publication. Operating in a state that has committed to having 60 percent of its workforce be college-educated by 2025, the decisions Ellspermann and Ivy Tech made over the past year were critical for the success of their students and the state of Indiana.
"I think we can be the best partner in the community," Ellspermann said in an exclusive interview. "We can partner with employers to understand the programs that they need, and help build the pipeline of workers in those careers. We can partner with community organizations to provide the wraparound support these non-traditional learners need. And we can partner with our community and state leaders to ensure the ecosystem of higher education provides an equitable way for citizens to be students, and to be graduates."
This campaign was made possible with the support of the American Council on Education (ACE), National Academic Advising Association (NACADA), AI in Advancement Advisory Council (AAAC), United Negro College Fund (UNCF), National Association of College and University Business Officers (NACUBO), American Association of Community Colleges (AACC), Phi Theta Kappa, Dr. Sue Ellspermann of Ivy Tech Community Colleges, Dr. Mary Schmidt Campbell of Spelman College, American Campus Communities, Salesforce for Education, Huron Consulting Services, O'Donnell Learn, Anthology, AdmitHub, Logan EDU, SHRM, HRCI, Coalition for Adult Basic Education, and USDLA.
About Mediaplanet
Mediaplanet specializes in the creation of content marketing campaigns covering a variety of industries. We tell meaningful stories that educate our audience and position our clients as solution providers. Our unique ability to pair the right leaders with the right readers, through the right platforms, has made Mediaplanet a global content marketing powerhouse. Our award-winning stories have won the hearts of countless readers while serving as a valuable platform for brands and their missions. Just call us storytellers with a purpose. Please visit http://www.mediaplanet.com for more on who we are and what we do.
Press Contact:
Eliana Marzullo
eliana.marzullo@mediaplanet.com