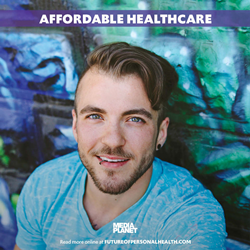 "The only way for us to make affordable, inclusive healthcare a reality is for people to show, in detail, how they suffer and how they're forced to manage their lives without having the care they deserve."
NEW YORK (PRWEB) June 21, 2019
In collaboration with America's Health Insurance Plans (AHIP) and the American Hospital Association (AHA), Mediaplanet today announces the launch of its premiere, cross-platform campaign "Access to Affordable Healthcare." This campaign compiles insights from thought leaders across the healthcare industry to paint a more accessible, inclusive image of the future of healthcare in the United States. It advocates for patients and their caregivers to become better educated on the resources available to them to make the best decisions about their health, and to envision a better healthcare future for all in this country.
The United States' social and economic environment is such that as many as 1 in 10 adults say that cost prevents them from maintaining or receiving care for their health. Of the uninsured adults who did not report having a usual source of care, 62 percent also said they do not receive any preventive healthcare services. In addition to cost, location can be a prohibitive barrier to care. Lack of access to reliable transportation makes it inconvenient — if not impossible — to receive care in rural communities, and causes a reported 3.6 million U.S. adults to miss or delay non-emergency medical care annually.
These barriers to receiving care are exacerbated among underserved communities. Trans activist Aydian Dowling, who is on the cover of the print version of the campaign, talks about how 31 percent of transgender Americans report a lack of regular care, and how the U.S. healthcare system needs to be more inclusive of all people, especially those in the LGBTQIA+ community. "The only way for us to make affordable, inclusive healthcare a reality is for people to show, in detail, how they suffer and how they're forced to manage their lives without having the care they deserve," Dowling says.
American healthcare is also failing mothers and their newborns, especially women of color and those who are low-income or live in rural areas. More than 5 million American women live in "maternity care deserts" where obstetric care is unavailable in nearby health centers, and every 12 hours, a U.S. woman dies because of pregnancy-related complications, making this one of the worst countries in the developed world for birthing mothers.
Given the current political context and uncertain future of the Affordable Care Act, these statistics point to the serious public health concerns informing the 69 percent of Americans who say healthcare should be a top item on Congress's agenda this year. This is an opportunity for institutions, providers, and payers to differentiate their care by building value in their services, putting the "patient" back in "patient care," and making sure quality, affordable healthcare is accessible, relevant, and friendly to all.
The print component of "Access to Affordable Healthcare" is distributed within today's edition of USA Today in the Chicago, Boston, Los Angeles, Atlanta, New York, North-Central and Southern Florida, and Washington DC/Baltimore markets, with a circulation of approximately 250,000 copies and an estimated readership of 750,000. The digital component is distributed nationally through a vast social media strategy and across a network of top news sites and partner outlets. To explore the digital version of the campaign, visit futureofpersonalhealth.com.
This campaign was made possible with the support of March of Dimes, Ronald McDonald House Charities, the Association of Accessible Medicines, Biosimilars Council, AHIP, AHA, Association of American Physicians and Surgeons, the National Association of Community Health Centers, UnidosUS, Nurx, and Blink Health.
About Mediaplanet
Mediaplanet specializes in the creation of content marketing campaigns covering a variety of industries. We tell meaningful stories that educate our audience and position our clients as solution providers. Our unique ability to pair the right leaders with the right readers, through the right platforms, has made Mediaplanet a global content marketing powerhouse. Our award-winning stories have won the hearts of countless readers while serving as a valuable platform for brands and their missions. Just call us storytellers with a purpose. Please visit http://www.mediaplanet.com for more on who we are and what we do.
Press Contact:
Eliana Marzullo
(646)-979-2836
eliana.marzullo(at)mediaplanet.com