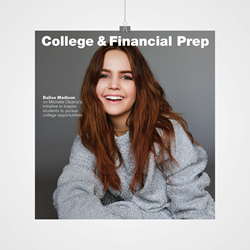 As of 2018, according to Make Lemonade, 44 million millennials and Gen Z students owe $1.5 trillion in student loans.
NEW YORK (PRWEB) December 21, 2018
Ahead of a new year of career and college prep, Mediaplanet today announces the launch of its first edition of "College & Financial Prep". The campaign focuses on high school students, college students and recent graduates and provides valuable information on how to get ahead as they look to build their careers and a healthy financial future.
Planning your future requires a great deal of commitment. Yet according to a recent McGraw-Hill Education and MMR Research Associates survey, only four in ten U.S. college students feel well-prepared for their future careers. This can lead to college drop-out, struggles with finding the right career path and concern among employers about the competency of new graduates.
Planning to pay for college is undoubtedly one of the biggest stressors that plagues families and students, with the need for financial planning beginning long before the college application process starts. As of 2018, according to Make Lemonade, 44 million millennials and Gen Z students owe $1.5 trillion in student loans.
The average student has difficulty navigating the challenges of accessing higher education, but for students of color and those from low-income backgrounds, the hurdles are even higher. Additional obstacles such as lack of school resources and fiscal mismanagement leave millions of high-achieving, underrepresented students without the education they deserve. This campaign speaks to students and young adults of all backgrounds, and maps out the tools they can use to set themselves up for a healthy financial future.
Actress, author and activist Bailee Madison graces the cover of the print publication. In an exclusive interview, Bailee speaks on her work with Michelle Obama and the Better Make Room Foundation, an organization that supports students in the challenges of applying for and accessing a higher education. Bailee's biggest advice for those undecided about picking a major or career path?
"The most important thing we can do is choose joy and choose passion. Dig down deep in your heart, speak to people that inspire you, and set goals you believe in," says Madison.
The print component of "College & Financial Prep" is distributed within today's edition of USA Today in New York, Boston, San Francisco, Los Angeles, Philadelphia, Chicago, Washington D.C./Baltimore markets, with a circulation of approximately 250,000 copies and an estimated readership of 750,000. The digital component is distributed nationally, through a vast social media strategy, and across a network of top news sites and partner outlets. To explore the digital version of the campaign, visit: http://www.educationandcareernews.com/topic/college-and-financial-prep
This campaign was made possible with the support of the ASVAB Career Exploration Platform, Simple Finance, Discovery Education, Thrivent, Association of International Certified Professional Accountants, Human eSources, Axos, Purefy, National Institute on Alcohol Abuse and Alcoholism, The School Superintendents Association, American School Counselor Association, National Association of Colleges and Employers, Financial Asset Management Corporation, John B. King and the Education Trust, Center for Law and Social Policy, Bee Downtown, Institute for Higher Education Policy, Education Finance Council, Financial Planning Association, National Scholarship Providers Association, and College Success Foundation.
About Mediaplanet
Mediaplanet specializes in the creation of content marketing campaigns covering a variety of industries. We tell meaningful stories that educate our audience and position our clients as solution providers. Our unique ability to pair the right leaders with the right readers, through the right platforms, has made Mediaplanet a global content marketing powerhouse. Our award-winning stories have won the hearts of countless readers while serving as a valuable platform for brands and their missions. Just call us storytellers with a purpose. Please visit http://www.mediaplanet.com for more on who we are and what we do.
Press Contact:
Victoria Borkowski
victoria.borkowski@mediaplanet.com
(646) 755-7949