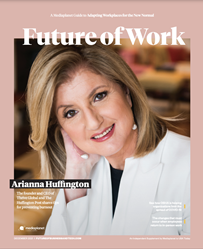 NEW YORK (PRWEB) December 29, 2021
Mediaplanet today announces the launch of its cross-platform campaign "Future of Work." Over the past year, businesses have learned a lot. For the first time in the modern age, organizations worldwide have battled a global pandemic that has left a deep impact on how and where people will work for years to come. However, while COVID-19 caused a rapid shift to full-time remote work for many U.S. employees, due to the successful vaccine rollout and lifted restrictions, 81 percent of companies said their teams will move to at least a hybrid model in the next six months.
Unfortunately, while employers may be eager to see employees back in the office, surging COVID-19 cases tied to the Omicron variant are igniting safety and emotional concerns, and employers must be flexible and react now. Sixty-seven percent of employers considering returning to the office in any capacity noted that enhanced health and safety protocols are a top priority for hybrid work. After a mass exodus from offices, returning to work is proving to be more complicated than anticipated.
In a hybrid work environment of the future, the on-site experience is more important than ever before. Thus, this campaign will lay the educational guidebook for modern business owners, HR leaders, facility management professionals, and building managers for how to create a workplace that ensures that employees feel safe, empowered, and excited to work. The campaign leans on expert insights to shed light on the available technologies, resources, and information that can help companies return to the workplace successfully and effectively. This includes tips on how to enhance employee well-being, improve productivity, reduce absenteeism, mitigate risk, boost company culture, and grow the organization's bottom line.
The print component of "Future of Work" is distributed within today's edition of USA Today in select markets, with a circulation of approximately 150,000 copies and an estimated readership of 450,000. The digital component is distributed nationally through a vast social media strategy, and across a network of top news sites and partner outlets. To explore the digital version of the campaign, visit futureofbusinessandtech.com/campaign/future-of-work.
Arianna Huffington, founder of The Huffington Post and Thrive Global, is featured on the cover of the print version of the campaign. In an exclusive interview, she talks about the incident that led her to realize workplace burnout and stress were not things to take lightly, and how she built a business that put employee well-being at the forefront. "Well-being isn't just a perk, it's a competitive advantage," Huffington says. "And there's a direct connection between the health of a company's bottom line, and the health and well-being of every company's most important resource — its people."
This campaign was made possible with the support of OSHA, International Facility Management Association, Society for Human Resources Management, Worldwide Cleaning Industry Association, Laura Putnam, Jen Arnold, Arianna Huffington, Michelle Reyman, and more!
About Mediaplanet
Mediaplanet specializes in the creation of content marketing campaigns covering a variety of industries. We tell meaningful stories that educate our audience and position our clients as solution providers. Our unique ability to pair the right leaders with the right readers, through the right platforms, has made Mediaplanet a global content marketing powerhouse. Our award-winning stories have won the hearts of countless readers while serving as a valuable platform for brands and their missions. Just call us storytellers with a purpose. Please visit http://www.mediaplanet.com for more on who we are and what we do.
Press Contact:
Ellie Gouvia
ellie.gouvia@mediaplanet.com