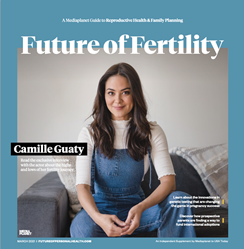 New York (PRWEB) March 23, 2021
Mediaplanet announces the launch of the "Future of Fertility" campaign. Now more than ever, conversations about family planning are at the forefront of society. Though one in eight American couples struggles with fertility, the topic is still highly stigmatized. This campaign highlights important resources, educational tools, and leading innovations in reproductive healthcare.
Actress Camille Guaty graces the cover of the print publication, and in an exclusive interview, the "Prison Break" star shares her personal experience with infertility. One of her top tips? "Don't be embarrassed to ask for help. The fertility community is full of people who have walked in your shoes – people out there who understand what you're going through." This sentiment highlights how important it is to keep this conversation open and ongoing, and how much support there is for those who are going through the same thing.
The print component of "Future of Fertility" is distributed within the March 19th edition of USA TODAY in New York, Boston, Los Angeles, San Francisco, Chicago, Cleveland, Dallas, Washington DC, Baltimore, Philadelphia, Atlanta, Detroit, Seattle, Pittsburgh, and Florida markets, with a circulation of approximately 200,000 copies and an estimated readership of 600,000. The digital component is distributed nationally through a vast social media strategy and across a network of top news sites and partner outlets. To explore the digital version of the campaign, visit futureofpersonalhealth.com.
This campaign was made possible with the support of the American Society of Reproductive Medicine, American Pregnancy Association, HealthyWomen, Resolve: National Infertility Association, Family Equality Council, The Broken Brown Egg, Ally Financial, Rectangle Health, Inception LLC, Special Angels Adoption, Fertility Source, Cooper Surgical, New Chapter, Holt International, SmartyPants, CiceroDx, ZyMot Fertility, Fujifilm Irvine Scientific, Quark Biosciences, Frontier Nursing University, Conagen, Hello Fresh, Midwest Fertility Center, Donor Sibling Registry, FemCap, A Time, National Clinical Training Center for Family Planning, Overlake Reproductive Health, and Mid-Iowa Fertility.
About Mediaplanet
Mediaplanet specializes in the creation of content marketing campaigns covering a variety of industries. We tell meaningful stories that educate our audience and position our clients as solution providers. Our unique ability to pair the right leaders with the right readers, through the right platforms, has made Mediaplanet a global content marketing powerhouse. Our award-winning stories have won the hearts of countless readers while serving as a valuable platform for brands and their missions. Just call us storytellers with a purpose. Please visit http://www.mediaplanet.com for more on who we are and what we do.
Press Contact:
Sloane Ackerman
Sloane.ackerman@mediaplanet.com
(646) 619-3803