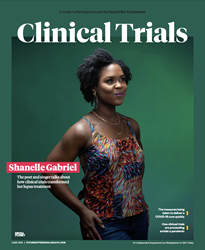 Amid a global pandemic, the need for clinical trials has never been higher as researchers race to uncover a vaccine and cure for COVID-19.
NEW YORK (PRWEB) June 19, 2020
Mediaplanet today announces the launch of its cross-platform campaign 'Clinical Trials.' This campaign showcases the innovative medical research achieved through clinical trials and highlights the heroes who participate in these studies, thereby advancing knowledge and disease treatment. This public awareness campaign aims to foster dialogue among research institutions, patients, and the general public about the importance of clinical trials for finding potential new therapies, and for patients who seem out of other options.
Amid a global pandemic, the need for clinical trials has never been higher as researchers race to uncover a vaccine and cure for COVID-19. "Clinical Trials" delves into the work going into developing medicines that will fight the novel coronavirus, while exploring the innovations that are allowing trials to continue while researchers and participants maintain social distancing guidelines.
The print component of "Clinical Trials" is distributed within this weekend's edition of USA Today in the New York, Chicago, Philadelphia, Los Angeles, Phoenix, Houston, Boston, Pittsburgh/Cleveland, Seattle, Washington DC, Carolinas, San Francisco, and South Florida markets, with a circulation of approximately 250,000 copies and an estimated readership of 750,000. The digital component is distributed nationally through a vast social media strategy, and across a network of top news sites and partner outlets. To explore the digital version of the campaign, click here.
In order to test the safety and efficacy of medicines, and thereby eventually bring them to market, clinical trials need patients to give the gift of participation. One such participant is spoken-word poet and singer Shanelle Gabriel, who appears on the cover of the print edition of "Clinical Trials." Gabriel participated in a clinical trial for a lupus treatment that transformed the way she managed her own condition. "There's only one way to find out if it works; somebody has to do it," Gabriel says in an exclusive interview. "I just felt like, 'You know what? I'm fine with that, because there could be a really great benefit from it.' And I did end up benefiting from it."
This campaign was made possible with the support of the Center for Information and Study on Clinical Research Participation (CISCRP), Merck, Pfizer, and Biogen.
About Mediaplanet
Mediaplanet specializes in the creation of content marketing campaigns covering a variety of industries. We tell meaningful stories that educate our audience and position our clients as solution providers. Our unique ability to pair the right leaders with the right readers, through the right platforms, has made Mediaplanet a global content marketing powerhouse. Our award-winning stories have won the hearts of countless readers while serving as a valuable platform for brands and their missions. Just call us storytellers with a purpose. Please visit http://www.mediaplanet.com for more on who we are and what we do.
Press Contact:
Jessica Berman
Jessica.berman@mediaplanet.com
646-922-1401