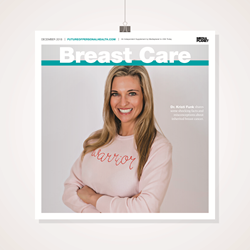 One in eight women will develop breast cancer in her lifetime.
NEW YORK (PRWEB) December 19, 2018
Shortly after Breast Cancer Awareness Month, Mediaplanet today announces the launch of this December's edition of "Breast Care." This campaign will emphasize the importance of early diagnosis, and provide women with the information and knowledge necessary to tackle the disease while empowering survivors alike.
One in eight women will develop breast cancer in her lifetime. Although this is a significant percentage of the population, breast cancer is one of the most treatable cancers when caught early. This means that early detection is crucial when determining the length and duration of treatment as well as survival. Women, especially those with a family history of breast cancer need to know how important it is to regularly get themselves screened and checked to detect anything abnormal right off the bat.
The print component of "Breast Care" is distributed within today's edition of USA Today in New York, Los Angeles, Chicago, D.C./Baltimore, Atlanta, New Orleans, South Florida markets, with a circulation of approximately 250,000 copies and an estimated readership of 750,000. The digital component is distributed nationally, through a vast social media strategy, and across a network of top news sites and partner outlets. To explore the digital version of the campaign, visit: http://www.futureofpersonalhealth.com/topic/breast-care
New York Times Best Selling Author and renowned breast surgeon, Dr. Kristi Funk graces the cover of the print publication. Through an exclusive interview on the interior, Kristi debunks some common misconceptions about breast cancer and shares tips for healthy living. "Genetic mutations clearly elevate the risk of cancer, but they only account for 20 percent of all breast cancer," says Funk. Dr. Funk has entered the public eye through her book; Breasts: The Owner's Manual. She has also received attention after performing a double mastectomy on Angelina Jolie.
This campaign was made possible with the support of Susan G. Komen, Breastcancer.org, Athenex Pharmaceuticals, Immunomedics, Hunterdon Health System, Mentor Corporation, and Siemens Healthineers.
About Mediaplanet
Mediaplanet specializes in the creation of content marketing campaigns covering a variety of industries. We tell meaningful stories that educate our audience and position our clients as solution providers. Our unique ability to pair the right leaders with the right readers, through the right platforms, has made Mediaplanet a global content marketing powerhouse. Our award-winning stories have won the hearts of countless readers while serving as a valuable platform for brands and their missions. Just call us storytellers with a purpose. Please visit http://www.mediaplanet.com for more on who we are and what we do.
Press Contact:
Dana Lenkowsky
dana.lenkowsky@mediaplanet.com
(646) 922-1410