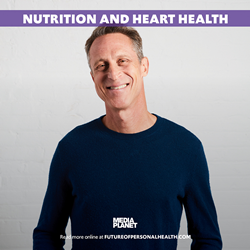 This campaign will serve as a resource for Americans who are seeking treatment options for chronic diseases such as cardiovascular disease.
NEW YORK (PRWEB) March 26, 2020
Helping to conclude National Nutrition Month, Mediaplanet today announces the launch of the first-ever edition of "Nutrition and Heart Health." This campaign will serve as a resource for Americans who are seeking treatment options for chronic diseases such as cardiovascular disease. It will also educate healthcare professionals and patients on current trends in cardiovascular treatment and technology.
The print component of "Nutrition and Heart Health" is distributed within today's edition of USA Today in Los Angeles, San Francisco, New York, Altanta, Nashville, Houston, Dallas, D.C., and Chicago markets, with a circulation of approximately 200,000 copies and an estimated readership of 600,000. The digital component is distributed nationally, through a vast social media strategy, and across a network of top news sites and partner outlets. To explore the digital version of the campaign, visit:
Physician and New York Times best-selling author Dr. Mark Hyman graces the cover of the print publication. Through an exclusive interview on the interior, Dr. Hyman talks about the benefits of eating a plant-rich diet, and what the modern healthy diet should consist of, despite outdated government recommendations. "Instead of demonizing one macronutrient like fat or carbs, I recommend that we just stick to real, whole foods, not food-like substances," says Hyman.
Other editorials in the campaign include plant-based healthcare, a new trend across healthcare professionals and patients that's using the power of plants to aid in disease treatment, careers in nutrition, advancements in cardiovascular disease treatment and technology, congenital heart defects and pediatric cardiology, and the future of personalized healthcare.
This campaign was made possible with the support of Greenleaf Foods, WeTheTrillions, University of Southern California Leonard Davis School of Gerontology, American Heart Association, Blossom Bariatrics, DNALife, GrassrootsHealth Nutrient Research Institute, Johns Hopkins Children's Hospital, The Sugar Association, Children's Heart Foundation, and the American Society of Nuclear Cardiology.
About Mediaplanet
Mediaplanet specializes in the creation of content marketing campaigns covering a variety of industries. We tell meaningful stories that educate our audience and position our clients as solution providers. Our unique ability to pair the right leaders with the right readers, through the right platforms, has made Mediaplanet a global content marketing powerhouse. Our award-winning stories have won the hearts of countless readers while serving as a valuable platform for brands and their missions. Just call us storytellers with a purpose. Please visit http://www.mediaplanet.com for more on who we are and what we do.
Press Contact:
Shannon Ruggiero
6467557962