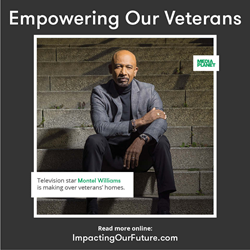 There are currently about 20.4 million veterans in the United States.
NEW YORK (PRWEB) November 09, 2018
With Veterans Day fast approaching, Mediaplanet is enlisting Montel Williams among others, to show our country's active military, veterans, and their families the supportive resources available to them whether they are looking for career transition support, benefits, education, or financial-management guidance.
There are currently about 20.4 million veterans in the United States. All these brave men and women have laid their lives on the line to fight for the freedom of American Citizens. However, once they return home from active duty, transitioning to civilian life can prove to be difficult. Educational and career opportunities, homeownership and managing health concerns are areas where veterans struggle once their time in the military has come to an end. In honor of this upcoming Veterans Day, we pay tribute and give thanks to those who have served for our security and protection while also remembering the sacrifices they have made.
The print component of "Empowering our Veterans" is distributed within this weekend's edition of USA Today, with a circulation of approximately 250,000 copies and an estimated readership of 750,000. The digital component is distributed nationally, through a vast social media strategy, and across a network of top news sites and partner outlets. To export the digital version of the campaign, click here: http://www.impactingourfuture.com/
Our cover story Emmy Award-winning host Montel Williams made a 17-year career of helping people fix their problems on "The Montel Williams Show." Now the former Marine is back as host and co-producer of a show exclusively focused on helping veterans. In "Military Makeover with Montel," which airs on Lifetime, Williams and the show's construction and design team give back to returning veterans through home makeovers. "We help them turn the home they own into the home they truly wish they had," says Williams, explaining the transformation is more than physical, noting, "We're also helping them make over their soul."
This campaign was made possible with support from Gunnery Sergeant and Breast Cancer Survivor Jackie Kirkwood, Wells Fargo, Wounded Warrior Project, Recruit Military, Team Rubicon, GEICO, Give an Hour, Women Veterans Alliance, City University of Seattle, The University of the Incarnate World and Guaranteed Rate
About Mediaplanet
Mediaplanet specializes in the creation of content marketing campaigns covering a variety of industries. We tell meaningful stories that educate our audience and position our clients as solution providers. Our unique ability to pair the right leaders with the right readers, through the right platforms, has made Mediaplanet a global content marketing powerhouse. Our award-winning stories have won the hearts of countless readers while serving as a valuable platform for brands and their missions. Just call us storytellers with a purpose. Please visit http://www.mediaplanet.com for more on who we are and what we do.
Press Contact:
Brenda Choi
brenda.choi@mediaplanet.com
(646) 518-5423