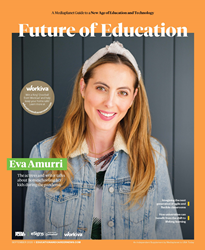 "My third baby was born the day Connecticut went into quarantine lockdown. It was super disorienting to have a brand-new baby in the family, and to be balancing caring for him, myself, and my two other kids alongside a distance learning situation."
NEW YORK (PRWEB) September 23, 2020
With K-12 and higher education transitioning back to the school year, Mediaplanet today announces the launch of its cross-platform campaign "Future of Education." This campaign will advocate for solutions to accessibility, equity, and student success in education, and provide insight on trends in education that will inevitably shift the long-term landscape for students and teachers.
This campaign will serve as a guide for education leaders, administrators, IT directors, and parents on how to implement and invest in solutions that will prioritize student success at the core. This fall, many students of all ages will continue learning remotely from home, at least part of the time. This campaign will dive into the necessary solutions to ensure every student has the access and resources necessary to receive an engaging education, and the equipment needed to ensure their health and safety in the classroom.
The print component of "Future of Education" is distributed within today's edition of USA Today in the Chicago, Los Angeles, San Francisco, Boston, New York, Washington DC/Baltimore, Dallas, and Carolina markets, with a circulation of approximately 200,000 copies and an estimated readership of 600,000. The digital component is distributed nationally through a vast social media strategy, and across a network of top news sites and partner outlets. To explore the digital version of the campaign, visit EducationandCareerNews.com/campaign/Future-of-Higher-Education and EducationandCareerNews.com/campaign/Empowering-Our-Educators.
Actress, blogger, and single mom Eva Amurri is featured on the cover of the print publication. In an exclusive interview, she reveals how she adapted when schools made the switch from in-school at-home learning earlier this year, something to which many parents around the country can relate. "My third baby was born the day Connecticut went into quarantine lockdown," says Amurri. "It was super disorienting to have a brand-new baby in the family, and to be balancing caring for him, myself, and my two other kids alongside a distance learning situation."
The campaign was made possible with the support of the United States Distance Learning Association, American Council on Education, United Negro College Fund, FutureLearn, DIGARC, Workiva, Progress, Yubico, The School Superintendent Association (AASA), National PTA, Branch Alliance for Education Diversity, Vistaprint, Ivy.ai, Life is Good Playmakers, eSigns, ZVerse, VS America, and the National WWII Museum.
About Mediaplanet
Mediaplanet specializes in the creation of content marketing campaigns covering a variety of industries. We tell meaningful stories that educate our audience and position our clients as solution providers. Our unique ability to pair the right leaders with the right readers, through the right platforms, has made Mediaplanet a global content marketing powerhouse. Our award-winning stories have won the hearts of countless readers while serving as a valuable platform for brands and their missions. Just call us storytellers with a purpose. Please visit http://www.mediaplanet.com for more on who we are and what we do.
Press Contact:
Isabelle Garrity
646-518-5421
Isabelle.garrity@mediaplanet.com