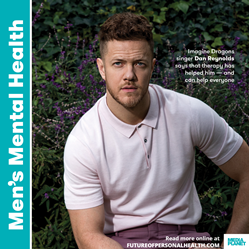 "Working men aged 25-54 account for the largest number of suicide deaths and make up over 75 percent of suicide victims in the United States. Every 20 minutes, another man will kill himself."
NEW YORK (PRWEB) March 22, 2019
Realizing that 2019 should be a positive year for mental health awareness, Mediaplanet today announces the launch of their first edition of their "Men's Mental Health" campaign. This campaign will aim to further elevate the effort to de-stigmatize mental illness for men, while providing sufferers with the social support and medical solutions they need to combat their issues.
Being a man means being tough, working through adversity and hardship, suppressing emotions and providing for one's family. Those cliches have failed men and the numbers are the proof: Working men aged 25-54 account for the largest number of suicide deaths and make up over 75 percent of suicide victims in the United States. Every 20 minutes, another man will kill himself. These men are also the least likely to receive any kind of support. They don't talk about it with their friends, they don't share with their family and they don't seek professional treatment. They are the victims of problematic thinking that says mental health disorders are unmanly signs of weakness.
The print component of "Men's Mental Health" is distributed within today's edition of USA Today in the New York, D.C Baltimore, Chicago, Los Angeles, Boston and Philadelphia markets, with a circulation of approximately 250,000 copies and an estimated readership of 750,000. The digital component is distributed nationally, through a vast social media strategy, and across a network of top news sites and partner outlets. To explore the digital version of the campaign, visit: http://www.futureofpersonalhealth.com/topic/mens-mental-health
Imagine Dragons lead singer Dan Reynolds, a mental health advocate, is featured on the cover of the print publication. In a wide-ranging profile, Dan talks about his struggles with depression and anxiety. "I understand how it feels to be in a state of numbness and grayness, and feeling like there is no sun, there is no relief, there is no breath of fresh air," says Reynolds. He also expresses how will to use his platforms to help break the stigma of mental health. "It takes very little effort for me to talk one minute about it, but when we get to talk about it in every major city around the world, it slowly etches away hopefully at de-stigmatizing it, so I think just using your platform is what I would say to any artist," Reynolds tells Mediaplanet.
The campaign also features the story of Theo Fleury, a former National Hockey League star who battled addiction throughout his playing career. He shares his story of how he changed his behaviors and worked to get to a better place. Personality Ben Aaron tells his story of admitting his obsessive-compulsive disorder, and the steps he's taken to control his OCD.
This campaign was made possible with the support of Mental Health America, SAMHSA, The Quell Foundation, The Guest House Treatment Center, Clarity Clinic, The Man Effect, The Brain & Behavior Research Foundation, American Society for Men's Health, The Hogg Foundation, The Treatment Advocacy Center, Otsuka America Pharmaceuticals, Ieso Health, Harry's Razors, and Dynamic DNA Labs.
About Mediaplanet
Mediaplanet specializes in the creation of content marketing campaigns covering a variety of industries. We tell meaningful stories that educate our audience and position our clients as solution providers. Our unique ability to pair the right leaders with the right readers, through the right platforms, has made Mediaplanet a global content marketing powerhouse. Our award-winning stories have won the hearts of countless readers while serving as a valuable platform for brands and their missions. Just call us storytellers with a purpose. Please visit http://www.mediaplanet.com for more on who we are and what we do.
Press Contact:
Jordan Zauderer
jordan.zauderer(at)mediaplanet.com
(646) 619-0223