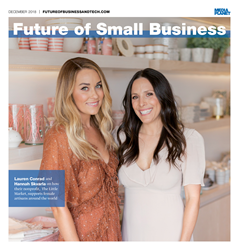 As of 2016, there were 28.8 million small businesses in America, which accounted for 99.7% of United States businesses.
NEW YORK (PRWEB) December 12, 2018
Mediaplanet today announces the launch of this December's edition of "Future of Small Business." This campaign advocates for entrepreneurs and small business owners to invest in the best solutions to overcome possible challenges, drive growth, and create a competitive advantage for their company and employees.
More than half of all Americans own or work for a small business. As of 2016, there were 28.8 million small businesses in America, which accounted for 99.7% of United States businesses, employed 58.9 million people, and created 1.9 million net jobs in 2015. However, only 50% of small businesses will survive five years or more, and approximately one-third will survive ten years or more.
The print component of "Future of Small Business" is distributed within today's edition of USA Today in New York, San Francisco, Miami, Los Angeles, Dallas/Houston, Atlanta, Chicago, Denver, Washington DC markets, with a circulation of approximately 250,000 copies and an estimated readership of 750,000. The digital component is distributed nationally, through a vast social media strategy, and across a network of top news sites and partner outlets. To explore the digital version of the campaign, visit: http://www.futureofbusinessandtech.com/topic/future-of-small-business
Lauren Conrad & Hannah Skvarla, long-time friends and co-founders of The Little Market, a nonprofit organization committed to supporting artisans in marginalized communities around the world, grace the cover of the print publication. Through an exclusive interview on the interior, Lauren and Hannah reveal their motivation behind opening The Little Market and offer advice to women entrepreneurs looking to follow in their footsteps. "Our mission is to support the economic empowerment of women in need all over the world through dignified job opportunities," says Lauren.
Today, The Little Market is a 501c nonprofit, 100% fair trade and has built partnerships with women-led artisan groups in over 28 countries – including the U.S. Each customer purchase from the store generates sustainable income for these artisans and their families. Their online store has grown into a huge success with a loyal customer following. Lauren and Hannah opened their first brick and mortar at Palisades Village.
This campaign was made possible with the support of the National Association of Women Business Owners, the United States Association for Small Business and Entrepreneruship, Mark Cuban, Robert Herjavec, Kendrick Nguyen, Dhani Jones, Lauren Conrad & Hannah Skvarla, Paul & Donnie Wahlberg, 8x8, Thryv/DexYP, Experian, NETGEAR, Avalara, Staples, Square, Wave, TSYS/Cayan, and the Hanover Insurance Group.