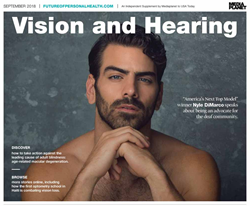 "There is nothing more powerful than being who you are and embracing your differences, you glow this way and you will soar higher for being exactly who you are."
NEW YORK (PRWEB) December 12, 2018
An estimated 60.7M Americans over the age of 12 suffer from hearing loss in at least one ear. Additionally, over 285M Americans suffer from vision loss and approximately 39M are classified as blind. Impaired hearing and vision is prevalent throughout the U.S. and at the current rate, those numbers will increase exponentially as the aging population is expected to double by 2050. Most hearing and vision impairment comes from a lack of preventative care at a young age, that would allow damage to be either avoided or reversed over time.
To be prepared for 2050, there should be higher prevention rates, acute diagnoses, and appropriate treatment, as well as readily available coverage for all of these. This campaign will educate younger readers on preventative methods while also encouraging them to have conversations with their doctors. Additionally, it will educate older readers on treatment options to maintain a high quality of life through better hearing and vision as they age.
The print component of "Vision and Hearing" is distributed within today's edition of USA Today in Los Angeles, New York, Philadelphia, South Florida, Austin, San Francisco, and Washington DC/Baltimore markets, with a circulation of approximately 250,000 copies and an estimated readership of 750,000. The digital component is distributed nationally, through a vast social media strategy, and across a network of top news sites and partner outlets. To explore the digital version of the campaign, click here.
America's Next Top Model and Dancing With the Stars' Champion, Nyle DiMarco, also shares his experience of life through Deaf ears. DiMarco represents the fourth generation of a family with over 25 deaf members, including his grandparents, mother and brothers, all of whom he grew up with under one roof. He hopes to better 466 million Deaf lives, as well as bring awareness and resources to those who need it.
For him, advocating for the Deaf community is a way to inform and educate others about his general experiences in life. He encourages his followers and those struggling with their identity to "keep going." "There is nothing more powerful than being who you are and embracing your differences, you glow this way and you will soar higher for being exactly who you are."
This campaign was made possible with the support of Nyle DiMarco, Signia, Sonic Technology, Quest Products Inc., The Vision Council, American Macular Degeneration Foundation, Alliance for Eye and Vision Research, Maculogix, EyePromise, CooperVision, Advanced Hearing Center, and Optometry Giving Sight.
About Mediaplanet
Mediaplanet specializes in the creation of content marketing campaigns covering a variety of industries. We tell meaningful stories that educate our audience and position our clients as solution providers. Our unique ability to pair the right leaders with the right readers, through the right platforms, has made Mediaplanet a global content marketing powerhouse. Our award-winning stories have won the hearts of countless readers while serving as a valuable platform for brands and their missions. Just call us storytellers with a purpose. Please visit http://www.mediaplanet.com for more on who we are and what we do.
Press Contact:
Kaitlyn Eda
Kaitlyn.Eda@mediaplanet.com
(646) 755-7955