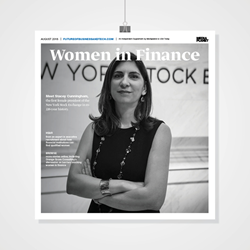 For the first time in its 226-year history, the New York Stock Exchange has a woman president.
NEW YORK (PRWEB) December 13, 2018
Mediaplanet today announces the launch of this August's edition of "Women in Finance." This campaign will empower women in the financial services by giving them the tools and support they need to advance their careers. It will also educate women of all kinds on the various career options in the finance world, as well as highlight companies offering equal opportunities to their employees.
The finance industry is broad — including investment banking, private equity, corporate finance, portfolio management, industry research, wealth management, financial planning, real estate, insurance and more — offering myriad positions to explore through a long career. Today, just 2 out of 10 financial advisers are women. That's pitiful when you consider that women comprise 51 percent of the overall U.S. population and are soon expected to control an estimated $22 trillion in wealth.
While there is a gender gap in financial services, there are also hundreds of inspirational role models that are putting some mighty cracks in the glass ceiling and clearing the path for a new generation of female leaders. For the first time in its 226-year history, the New York Stock Exchange has a woman president and we are honored to have Stacey Cunningham as our cover story! Cunningham says it's important to bring in people with diverse backgrounds, viewpoints and perspectives. "If that's the focus, you're going to find you have a much more diverse team across gender, race and socioeconomic backgrounds," she says. Throughout her career, Cunningham has learned from everyone around her, including coworkers and bosses. She says relationships are important for professional success and advises building a team of people with different skills and perspectives.
As a large portion of the advising workforce approaches retirement age, Jennifer Bacarella, the director of firm development and a member of the executive committee at Sigma Financial Corporation, suggests that the push towards gender equity in the industry means breaking entrenched norms of mentorship and succession. Because many of today's advisors built their careers in a "very male-centered" industry, "they only think about bringing men into the industry," she says, adding that when it comes to building a succession plan, "our advisors always look to their sons." Buck also encounters dated ideas of what success looks like in the industry. "When I walk into a room, even though I run the company as a CEO, everybody greets my husband first," she shares.
The print component of "Women in Finance" is distributed within today's edition of USA Today in New York, Boston, San Francisco, Los Angeles, South Florida, Washington/Baltimore, Seattle, Houston and Chicago markets, with a circulation of approximately 250,000 copies and an estimated readership of 750,000. The digital component is distributed nationally, through a vast social media strategy, and across a network of top news sites and partner outlets. To explore the digital version of the campaign, visit: http://www.futureofbusinessandtech.com/topic/women-in-finance
This campaign was made possible with the support of Fidelity Investments, Edward Jones Investment, Sigma Financial Corporation, Parkland Securities, Strong Legacy Planning, E.A. Buck, Russell Reynolds Associates, Women in Insurance and Financial Services, Forte Foundation, Commercial Finance Association, Washington Bankers Association, Investment News, FinTech Professionals Association, Orange Grove Consulting, Suffolk University, Syracuse University, Elephant Insurance and SheEO.
About Mediaplanet
Mediaplanet specializes in the creation of content marketing campaigns covering a variety of industries. We tell meaningful stories that educate our audience and position our clients as solution providers.
Our unique ability to pair the right leaders with the right readers, through the right platforms, has made Mediaplanet a global content marketing powerhouse. Our award-winning stories have won the hearts of countless readers while serving as a valuable platform for brands and their missions. Just call us storytellers with a purpose. Please visit http://www.mediaplanet.com for more on who we are and what we do.
Press Contact:
Brenda
Brenda.Choi@mediaplanet.com
(646) 518-5423