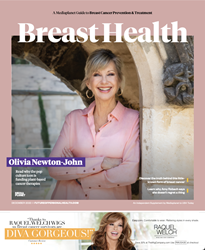 Breast cancer is the second most common type of cancer among women in the United States after lung cancer
NEW YORK (PRWEB) December 15, 2020
Mediaplanet today announces the launch of this December's edition of "Breast Health." This campaign advocates for increased funding for breast cancer research and better public education about risk factors and prevention, highlights innovations in treatment and aftercare, and elevates some of the leading voices among breast cancer "thrivers."
Breast cancer is the second most common type of cancer among women in the United States after lung cancer, and while it has a high rate of survivorship when caught early, there are still barriers to care and early detection — including lack of public information, systemic inequities, and medical facility closures due to the pandemic. Fortunately, healthcare providers and researchers have made massive strides in just the past decade when it comes to our understanding of the disease, including risk factors such as genetic predisposition and innovations in treatment and after-care. And the work is ongoing.
The print publication's cover story features Olivia Newton-John, pop culture icon and three-time breast cancer survivor. In an exclusive interview, Newton-John discusses her new foundation, which is focused on funding research of plant-based cancer therapies. "There are over 100,000 species of plants in the Amazon forest alone and they've only studied three percent of those for therapeutic value," the Grease star stated. Newton-John explained that her own experience with cancer treatments inspired a desire for a science-backed therapy that felt more natural.
The print component of "Breast Health" is distributed within today's edition of USA TODAY in
Atlanta, Boston, Chicago, Los Angeles, New York, Philadelphia, Baltimore, San Francisco, Washington DC, Cincinnati, North Carolina, South Carolina, Florida, Pittsburgh, Nashville and Houston with a circulation of approximately 200,000 copies and an estimated readership of 600,000. The digital component is distributed nationally through a vast social media strategy and across a network of top news sites and partner outlets. To explore the digital version of the campaign, visit: https://www.futureofpersonalhealth.com/campaign/breast-health/
This campaign was made possible with the support of Athenex Oncology, HairUWear, Immunomedics, Innersense Organic Beauty, Inspirata, Lifetime Entertainment, MD Anderson Cancer, Qiagen, Revitalash Cosmetics, Salon Services, TurningPoint Breast Cancer Rehabilitation, Olivia Newton-John, Stand Up to Cancer, Amy Robach, American College of Medical Genetics and Genomics, TNBC Foundation, Melissa Berry, HairToStay, American Society of Plastic Surgeons, American Society for Clinical Pathology, and the United States Lactation Consultant Association.
About Mediaplanet
Mediaplanet specializes in the creation of content marketing campaigns covering a variety of industries. We tell meaningful stories that educate our audience and position our clients as solution providers. Our unique ability to pair the right leaders with the right readers, through the right platforms, has made Mediaplanet a global content marketing powerhouse. Our award-winning stories have won the hearts of countless readers while serving as a valuable platform for brands and their missions. Just call us storytellers with a purpose. Please visit http://www.mediaplanet.com for more on who we are and what we do.
Press Contact:
Sloane Ackerman
Sloane.ackerman@mediaplanet.com
(646) 619-3803