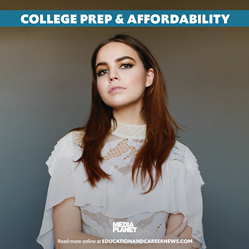 Nearly 75 percent of the nation's fastest-growing occupations require education and training beyond a high school diploma, and 69 percent of the graduating class of 2018 took out student loans.
NEW YORK (PRWEB) June 27, 2019
As hundreds of thousands of students prepare to transition to their first year of college this fall, and many more students fill out college applications, Mediaplanet today announces the launch of its June edition of "College Prep & Affordability."
Making college affordable is a national issue because of how essential a college degree has become. Nearly 75 percent of the nation's fastest-growing occupations require education and training beyond a high school diploma, and 69 percent of the graduating class of 2018 took out student loans. This campaign provides information and resources to parents and students that can help them plan for their finances throughout college and beyond, giving every student the opportunity to succeed in their higher education and careers.
In addition to helping with financial planning, "College Prep and Affordability" provides information that can help parents and students navigate the other potentially stressful aspects of the college experience. This includes deep dives into several key issues, including equity in higher education, test prep strategies, online degree options, and more. The campaign also highlights key resources students can use to make the most of their college experience.
The print component of "College Prep & Affordability" is distributed within today's edition of USA Today in the New York, San Francisco, Chicago, Houston, Los Angeles, Las Vegas, Washington DC/Baltimore, and North-Central Florida markets, with a circulation of approximately 250,000 copies and an estimated readership of 750,000. In addition, it will be distributed throughout the year at industry conferences including 28 National Association for College Admission Counseling (NACAC) College Fairs. The digital component is distributed nationally through a vast social media strategy and across a network of top news sites and partner outlets. To explore the digital version of the campaign and more stories, visit http://www.educationandcareernews.com/campaign/college-affordability/.
In addition to affordability, the campaign discusses financial education at length, and how if young adults do not receive this education, they will face massive stress and be unlikely to succeed financially in the future. In the campaign, PNC Bank showcases its "Virtual Wallet Student" which helps make it easier for students to plan and track their spending, save toward their goals, and manage their money the way they want. The Virtual Wallet Student offers solutions to make money management easier and more convenient, including resources such as allowing parents to enroll in email and text alerts, and access PNC's My Finance Academy. This allows parents to help their college students make informed decisions about their finances. Learn more by visiting pnc.com/studentbanking and checking out PNC's advertisement in the print campaign.
This campaign was made possible with the support of Bailee Madison, NACAC, Education Finance Council (EFC), National Association of Student Financial Aid Administrators (NASFAA), National Endowment for Financial Education (NEFE), SavingForCollege.com, Complete College America (CCA), Association on Higher Education and Disability (AHEAD), Lumina Foundation, Association for Nontraditional Students in Higher Education, National Parent Teacher Association (PTA), Thrivent Financial, PNC Bank, Dormify, Course Hero, University of Florida, Credit Union Student Choice, and more!
About Mediaplanet
Mediaplanet specializes in the creation of content marketing campaigns covering a variety of industries. We tell meaningful stories that educate our audience and position our clients as solution providers. Our unique ability to pair the right leaders with the right readers, through the right platforms, has made Mediaplanet a global content marketing powerhouse. Our award-winning stories have won the hearts of countless readers while serving as a valuable platform for brands and their missions. Just call us storytellers with a purpose. Please visit http://www.mediaplanet.com for more on who we are and what we do.
Press Contact:
Rebecca Levine
rebecca.levine@mediaplanet.com