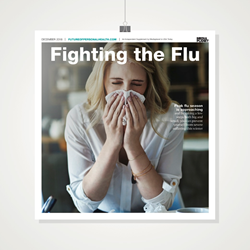 This winter, Puffs, the ultimate nose soother, is spotlighting the silver lining comforts of being sick, so you can get well sooner
NEW YORK (PRWEB) December 06, 2018
It's easy to get sick during cold and flu season, and when one person catches the flu the rest of the family follows. According to the CDC, someone with the flu can spread it to others up to about 6 feet away. Most experts think that flu viruses spread mainly by droplets made when people with the flu cough, sneeze or talk. While most people recover from the flu within seven to ten days, it can spread from infected people to others through the air and close personal contact, such as shaking hands, or touching infected surfaces, like door handles or sink faucets, increasing your chances of catching the bug this winter.
While being sick is not fun, the things that comfort us most - like pajamas, movies and chicken soup - are there to lift our spirits some. This winter, Puffs, the ultimate nose soother, is spotlighting the silver lining comforts of being sick, so you can get well sooner. In order to best protect your nose while battling cold and flu symptoms, Puffs urges people to avoid a sore nose by reaching for a soft, soothing tissue, such as Puffs Plus Lotion. While noses can turn sore and red from tissue blowing, Puffs Plus Lotion is dermatologist tested to be gentle on sensitive skin, and its touch of lotion helps comfort and sooth irritated noses better than ordinary tissues can. Because a nose in need deserves the comfort of Puffs, indeed.
The print component of "Fighting the Flu" is distributed within the December 6th regional circulation of USA Today, with a circulation of approximately 250,000 copies and an estimated readership of 750,000 within the Boston, Carolinas, Chicago, Dallas, New York, and Washington D.C/Baltimore markets. The digital component is distributed nationally, through a vast social media strategy, and across a network of top new sites and partner outlets. To explore the digital version of the campaign, visit: http://bit.ly/2zMks0a
This edition of "Fighting the Flu" was made possible with the support of the American Lung Association, CDC, Save the Children, National Parent Teachers Association, National Foundation for Infectious Diseases, Dr. Gerba, Procter & Gamble Puffs Brand, Procter & Gamble Vicks Brand, Procter & Gamble Bounty Brand, Karcher North America, Kinsa Health, and Essick Air.
About Mediaplanet
Mediaplanet is the leading independent publisher of content-marketing campaigns covering a variety of topics and industries. We turn consumer interest into action by providing readers with motivational editorial, pairing it with relevant advertisers and distributing it within top newspapers and online platforms around the world.
About Procter & Gamble
P&G serves consumers around the world with one of the strongest portfolios of trusted, quality, leadership brands, including Always®, Ambi Pur®, Ariel®, Bounty®, Charmin®, Crest®, Dawn®, Downy®, Fairy®, Febreze®, Gain®, Gillette®, Head & Shoulders®, Lenor®, Olay®, Oral-B®, Pampers®, Pantene®, SK-II®, Tide®, Vicks®, and Whisper®. The P&G community includes operations in approximately 70 countries worldwide. Please visit http://www.pg.com for the latest news and information about P&G and its brands.
Press Contacts:
Sophia Oramas
sophia.oramas@mediaplanet.com
646.922.1406