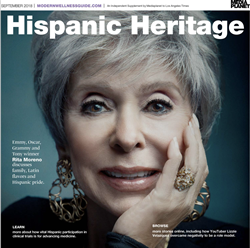 "We are a nation of immigrants [and] it is our country – everybody"
NEW YORK (PRWEB) December 05, 2018
Helping kick off Hispanic Heritage Month, Mediaplanet today announces the launch of this September edition of "Hispanic Heritage." This campaign discusses top issues for Hispanics such as health, education, financial wellness, and, of course, cultural celebration.
The print component of "Hispanic Heritage" is distributed within today's edition of the Los Angeles Times and HOY, with a circulation of approximately 410,000 copies and an estimated readership of 1.2 million readers. The digital component is distributed nationally, through a vast social media strategy, and across a network of top news sites and partner outlets. To explore the digital version of the campaign, click here.
Emmy, Grammy, Oscar, and Tony winner Rita Moreno graces the cover of the print publication. In an exclusive interview on the interior, Moreno reveals her priorities: family, celebrating Puerto Rican culture, and supporting rising diverse talent in entertainment. With her many decades of influence and success within the industry, she reflects on the advancements made thus far and the work yet to be done.
Between celebration and advocacy, Moreno shares the importance of our communities standing together and realizing that "we are a nation of immigrants [and] it is our country – everybody."
This campaign was made possible with the support of Rita Moreno, Francia Raisa, the Congressional Hispanic Caucus Institute, Wells Fargo, Equity Prime Mortgage, the National Association of Hispanic Real Estate Professionals, Ricky Martin, Diane Guerrero, Scripps Research Institute, the "All of Us" research program from the National Institutes of Health, National Association of Certified Diabetes Educators, Stand Up 2 Cancer, diaTribe Learn, Women Heart, National Hispanic Medical Association, Jorge Ramos, Lizzie Velasquez, Katherine Castro and Curacao.
About Mediaplanet
Mediaplanet specializes in the creation of content marketing campaigns covering a variety of industries. We tell meaningful stories that educate our audience and position our clients as solution providers. Our unique ability to pair the right leaders with the right readers, through the right platforms, has made Mediaplanet a global content marketing powerhouse. Our award-winning stories have won the hearts of countless readers while serving as a valuable platform for brands and their missions. Just call us storytellers with a purpose. Please visit http://www.mediaplanet.com for more on who we are and what we do.
Press Contact:
Alexandra Flecha-Hirsch
alex.flechahirsch@mediaplanet.com
(646) 979 - 2835