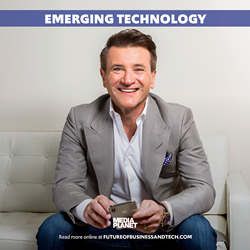 "There is no doubt that any organization that wants to scale needs to go through some aspect of digital transformation..."
NEW YORK (PRWEB) March 31, 2020
Mediaplanet today announces the launch of the "Emerging Technologies: Digital Transformation Edition" campaign. In a highly competitive and data-driven environment, businesses are looking to find success and stand out among the competition. This new digital landscape is providing challenges for businesses, but also opportunities to overcome those challenges. This campaign explains the emerging technologies and cloud-based solutions that companies can implement, specifically focusing on trends in their digital transformation efforts.
In this campaign, Mediaplanet worked with tech giant and "Shark Tank" investor Robert Herjavec, who provided his expertise on how businesses should navigate digital transformation, cybersecurity, and transition to remote workforce, as well as the key factors in business success that are being guided by cloud and artificial intelligence-based solutions. "There is no doubt that any organization that wants to scale needs to go through some aspect of digital transformation. Companies are developing mobile applications and integrating various consumer touchpoints through the buying process. We're also seeing enterprises move to more cloud-based tools in order to drive efficiency and security in business operations," Herjavec said.
The print component of "Emerging Technologies: Digital Transformation Edition" is distributed within the San Francisco Chronicle, with a circulation of 173,000 copies and an estimated readership of 520,000. The digital component is distributed online through a vast social media strategy and across a network of top news sites and partner outlets. To explore the digital version of the campaign, visit https://www.futureofbusinessandtech.com/campaign/cloud-solutions/.
This campaign was made possible with the support of partners including Altiostar, Simon-Kucher & Partners, MindTickle, Oracle, and Automation Anywhere. Additionally, this campaign was supported by the Institute for Digital Transformation, NASA, American Association of Inside Sales Professionals, AI4All, World Economic Forum, the Technology Business Management Council, and the Customer Service Institute of America.
Throughout 2020, Mediaplanet looks forward to the following upcoming events, which will also host copies of the campaign: IoT World, LiveWorx Digital Transformation 2020, AI & Big Data Expo, and TBM Conference.
About Mediaplanet
Mediaplanet specializes in the creation of content marketing campaigns covering a variety of industries. We tell meaningful stories that educate our audience and position our clients as solution providers. Our unique ability to pair the right leaders with the right readers, through `the right platforms, has made Mediaplanet a global content marketing powerhouse. Our award-winning stories have won the hearts of countless readers while serving as a valuable platform for brands and their missions. Just call us storytellers with a purpose. Please visit http://www.mediaplanet.com for more on who we are and what we do.
Press Contact:
Ali Ippolito
ali.ippolito@mediaplanet.com
646-979-2840