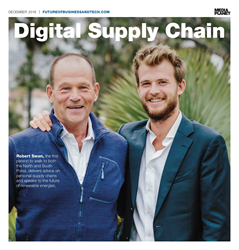 "This is the biggest impact you can have in saving the world and saving money for you and your business."
NEW YORK (PRWEB) December 14, 2018
Educating people on the ways technological solutions have positively impacted supply chains across the country and different methods of implementing solutions to build upon relevant applications in their existing business ecosystem. Advocating that a digitized supply chain can seamlessly sync together with their daily processes in order to save time, money, and assist in making better decisions across the organization.
Supply Chain is an essential driver for customer-facing innovation, data-driven optimization and automation, digital transformation and entirely new applications, business models and revenue streams across all sectors. At the same time, challenges regarding pollution, security, and even a universal understanding of what a digitized supply chain is and how it can be best utilized are still being tackled.
The print component of "Digital Supply Chain" is distributed within today's edition of USA Today with a circulation of approximately 280,000 copies and an estimated readership of 1 million people. The digital component is distributed nationally, through a vast social media strategy, and across a network of top news sites and partner outlets. To explore the digital version of the campaign, visit: http://www.futureofbusinessandtech.com/topic/digital-supply-chain
Robert Swan, the first man to reach the North and South Poles using totally renewable energies, is featured on the cover of the print publication. Through an exclusive interview, Robert discusses the importance of making small changes to our personal supply chains to protect the planet: "This is the biggest impact you can have in saving the world and saving money for you and your business."
The campaign features several notable IoT and Industry thought leaders from Robert Swan, Lori Grenier, CIPS, IBF, American Farm Bureau, the IBF, Eric Beckwitt, Frank Yiannis, and more!
This campaign was made possible with the support of Peer Ledger, Ratelinx, Fourkites, JDA, Northwood University, Proship, Pure Strategies, and Rutgers University.
About Mediaplanet
Mediaplanet specializes in the creation of content marketing campaigns covering a variety of industries. We tell meaningful stories that educate our audience and position our clients as solution providers. Our unique ability to pair the right leaders with the right readers, through the right platforms, has made Mediaplanet a global content marketing powerhouse. Our award-winning stories have won the hearts of countless readers while serving as a valuable platform for brands and their missions. Just call us storytellers with a purpose. Please visit http://www.mediaplanet.com for more on who we are and what we do.
Press contact:
Mitchell Gross
mitchel.gross(at)mediaplanet.com