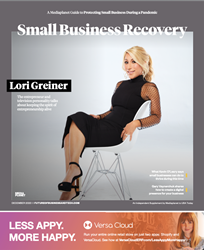 The campaign will shed light on the key role small businesses play in strengthening local communities, as well as the U.S. economy as a whole.
NEW YORK (PRWEB) December 15, 2020
Mediaplanet today announces the launch of its cross-platform campaign "Small Business Recovery." By collaborating with the industry's most respected business leaders, this campaign will explore the issues small businesses are currently facing during the COVID-19 pandemic.
"Small Business Recovery" addresses a range of topics, including leveling the business playing field, digital tools and why they are essential for survival, getting grants for digital export strategies, why small businesses need to go global, and how small businesses can acquire and better manage capital (authored by industry leaders like Gary Vaynerchuk, Kevin O'Leary, Ramit Sethi, Robin Sharma, Melissa Butler, and more).
The campaign will shed light on the key role small businesses play in strengthening local communities, as well as the U.S. economy as a whole. It will highlight the resources available that are allowing people of all genders, race, and backgrounds to grow their businesses — whether brick-and-mortar, totally online, or a combination of the two.
The print component of "Small Business Recovery" is distributed in today's edition of USA TODAY in the New York, San Francisco, Chicago, Houston, Los Angeles, South Florida, Washington DC, Boston, Denver, Atlanta, Dallas, Seattle, and Philadelphia markets. The digital component is distributed nationally through a vast social media strategy, and across a network of top news sites and partner outlets. To explore the digital version of the campaign, visit futureofbusinessandtech.com/campaign/small-business.
Entrepreneur, investor, and star of ABC's "Shark Tank" Lori Greiner is featured on the cover of the print component of the campaign. In an exclusive interview, she offers inspiration for fellow entrepreneurs trying to guide and/or build their small businesses during these challenging times. "You have to do everything you can to pivot and keep your business alive, or create a new business to go forward," Greiner says. "Remember you were successful the first time and you can be successful again."
This campaign was made possible with the support of The Small Business Administration (SBA), SCORE, Freelancers Union, National Association for the Self Employed, Connected Commerce Council (3C), International Council for Small Business (ICSB), US Chamber of Commerce, Start Small Think Big, Entrepreneur Media, Gary Vaynerchuck, Ramit Sethi, Robin Sharma, Melinda Emerson, Melissa Butler, Raymond Ray, Mark Cuban, Kevin O'Leary, John Rampton, Amy Jo Martin, Gene Marks, Maureen Borzacchiello, CISCO, Wave, Alibaba, Zen Business, Vivial Inc., VersAccounts, BirdEye, Kapitus, Shipping Easy, Wix, Yelp, & Ruby Receptionists.
About Mediaplanet
Mediaplanet specializes in the creation of content marketing campaigns covering a variety of industries. We tell meaningful stories that educate our audience and position our clients as solution providers. Our unique ability to pair the right leaders with the right readers, through the right platforms, has made Mediaplanet a global content marketing powerhouse. Our award-winning stories have won the hearts of countless readers while serving as a valuable platform for brands and their missions. Just call us storytellers with a purpose. Please visit http://www.mediaplanet.com for more on who we are and what we do.
Press contact:
Neetu Wadhwani
neetu.wadhwani@mediaplanet.com
(617) 909-4990