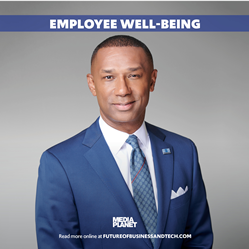 HR professionals and business leaders must open and expand the dialogue about workplace benefits with executives and decision-makers. Our employees are counting on us.
NEW YORK (PRWEB) March 26, 2020
Using the expertise of industry leaders to explore solutions to problems facing the ever-changing corporate landscape, Mediaplanet today announces the launch of its March edition of their campaign, "Employee Well-Being." With topics covering millennial retention, financial wellness, pet health insurance, physical and mental health, workplace harassment, diet and nutrition, and caregiving, the campaign emphasizes that when companies invest in the well-being of their employees, it leads to a more profitable bottom line for the employer.
The cross-platform campaign advocates for an increased emphasis on overall employee health, engagement, and benefits. By partnering with the HR industry's most prominent thought leaders, the included stories highlight the importance for employers to expand employee benefits and development programs, implement HR efficiencies, and improve well-being solutions. Its ultimate aim is to help managers and HR professionals cultivate a happier, healthier, and more developed workforce, all while boosting company engagement, which improves retention and allows for the professional growth of top talent.
Chief Executive Officer of the Society for Human Resource Management, Johnny C. Taylor, is featured in the foreword of the publication. Inside, Taylor discusses a healthy work-life balance, paid leave, recruiting and retention, benefits for the multi-generational workforces, financial wellness resources, student loan debt relief, remote working, and telemedicine. "When employees feel supported by good benefits, they can spend more time managing life outside of work with less stress—whether it be through more flexibility, financial wellness, or health care accessibility," Taylor said.
"HR professionals and business leaders must open and expand the dialogue about workplace benefits with executives and decision-makers. Our employees are counting on us."
The print component of "Employee Well-Being" is distributed in today's edition of USA Today New York, Los Angeles, Chicago, San Francisco, Washington DC/Baltimore, and Boston. In addition, it will be distributed at several industry-focused conferences, including Recruitcon, SHRM Annual Conference, HR World Conferences, the HRD Summit, and more. The digital component is distributed nationally, through a vast social media strategy, and across a network of top news sites and partner outlets. To explore the digital version of the campaign, click here.
This campaign was made possible with the support of the Society for Human Resource Management, Health Enhancement Research Organization, the American Institute of Stress, National Business Group on Health, Patagonia, Nationwide Insurance, California Chamber of Commerce, Bright Horizons, Personal Capital, Talkspace, Oh My Green, Dave's Killer Bread, and WebMD.
About Mediaplanet
Mediaplanet specializes in the creation of content marketing campaigns covering a variety of industries. We tell meaningful stories that educate our audience and position our clients as solution providers. Our unique ability to pair the right leaders with the right readers, through the right platforms, has made Mediaplanet a global content marketing powerhouse. Our award-winning stories have won the hearts of countless readers while serving as a valuable platform for brands and their missions. Just call us storytellers with a purpose. Please visit http://www.mediaplanet.com for more on who we are and what we do.
Press Contact:
Katie McNerney
katherine.mcnerney@mediaplanet.com
(646)-619-0195