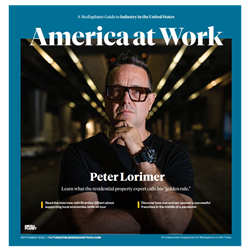 The cross-platform campaign advocates for an increased emphasis on the overall work Americans are doing and the ways it has shifted due to the pandemic.
NEW YORK (PRWEB) September 25, 2020
Using the expertise of industry leaders to explore solutions to problems facing the ever-changing business landscape, Mediaplanet today announces the launch of its September edition of their campaign, "America at Work." This campaign addresses a range of topics and industries including employee well-being with open enrollment right around the corner, the status of manufacturing in America and how it relates to the American workforce, the unique challenges facing restaurant owners and employees, the ways that property managers, landlords, and owners can grow their rental property business, the essential work truck drivers do and resources for veterans and truck drivers alike on healthy habits, as well as the future of electric trucking. The campaign highlights the innovations and tools that are essential to driving the modern workforce.
The cross-platform campaign advocates for an increased emphasis on the overall work Americans are doing and the ways it has shifted due to the pandemic. By partnering with the most prominent thought leaders of these industries, the included stories highlight the prosperity and challenges of four essential American Industries amidst a global pandemic. It aims to educate employers, employees, and consumers on the prosperity and challenges of four essential American Industries amidst a global pandemic.
Star of Netflix's Stay Here, Pete Lorimer, is featured in the cover story of the publication. Inside, Lorimer explains why putting people first in real estate makes good business sense. This is a message that is echoed throughout the campaign with leaders across industries calling for the acknowledgement and support of the humanity of each industry.
The print component of "America at Work" is distributed in today's edition of USA Today New York, Los Angeles, Chicago, Dallas, Washington DC/Baltimore, Boston, San Francisco, Seattle, Houston, Southern Florida, Northern/Central Florida, New Orleans, Atlanta, Dallas, Cleveland, Cincinnati/Pittsburgh, Detroit, Phoenix, St. Louis, and Denver. The digital component is distributed nationally, through a vast social media strategy, and across a network of top news sites and partner outlets. To explore the digital version of the campaign, click here.
This campaign was made possible with the support of the Society for Human Resource Management, Employee Benefit Research Institute, Wellness Council of America, American Association for Access, Equity and Diversity, Cartus Corp, HSA Bank, UBS, Noom, Brantley Gilbert, Brittney and Brian Kelley, Josh Silverman, Karen Norheim, Peggy Gulick, Manufacturers Alliance for Productivity and Innovation, Association for Manufacturing Excellence, Association for Manufacturing Technology, Reshoring Initiative, Institute for Supply Management, Power Transmission Distributors Association, Diverse Manufacturing Supply Chain Alliance, FishBowl Inventory, Claroty, Epicor, North American Transportation Association, Women In Trucking Association, National Association of Truck Stop Owners, FleetPros, Desiree Wood, Big Cat, Tony Justice, American Trucking Association, National Council of Freight Efficiency, Lisa Kelly, Healthy Truckers Association of America, Blue Green Alliance, American Central Transport, Inc., Electric Auto Association, Smart Trucking, National Association of Women Business Owners (NAWBO), Modern Restaurant Management, Restaurant Workers' Community Foundation, Food and Agriculture Organization of the United Nations (FAO), University of Nevada, Las Vegas, Clean Juice, National Multifamily Housing Council, National Apartment Association, National Association of Residential Property Managers, American Apartment Owners Association, Vacation Rental Management Association, Energy Efficiency for All, Home Staging and Redesign Association, National Center for Healthy Housing, Green & Healthy Homes Initiative, Jeff Cronrod, Lisa Nelson Woods, Homebase, Point Central, IOTAS, Verdant Environmental Technologies, National Tenant Network, Latchel, SOCi, PM Made Easy, Vs24, Rhino, Johnson Fitness, Moxtra, RentMoola, aBundle, Salto Systems, Smart Property Systems, Ecobee, Trane.
About Mediaplanet
Mediaplanet specializes in the creation of content marketing campaigns covering a variety of industries. We tell meaningful stories that educate our audience and position our clients as solution providers. Our unique ability to pair the right leaders with the right readers, through the right platforms, has made Mediaplanet a global content marketing powerhouse. Our award-winning stories have won the hearts of countless readers while serving as a valuable platform for brands and their missions. Just call us storytellers with a purpose. Please visit https://www.mediaplanet.com for more on who we are and what we do.
Press Contact
Katie McNerney
katherine.mcnerney(at)mediaplanet.com
646-619-0195