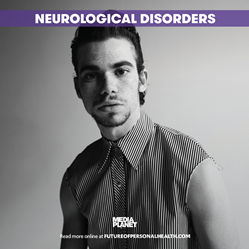 Up to one billion people, nearly one-sixth of the world's population, suffer from neurological disorders, with some 6.8 million dying of the disorders each year.
NEW YORK (PRWEB) March 31, 2020
In recognition of Brain Awareness Week and ahead of Parkinson's Awareness Month, Mediaplanet is proud to announce the launch of its "Neurological Disorders" campaign.
Up to one billion people, nearly one-sixth of the world's population, suffer from neurological disorders, with some 6.8 million dying of the disorders each year. There is no cure for any of these disorders, and patients, healthcare professionals, and family caregivers alike are in desperate need of improved therapies and technologies that will help manage their symptoms and improve their quality of life.
In recognition of Brain Awareness Week, this campaign will inspire and educate patients, families, and healthcare professionals by spotlighting the leading diagnostics and treatment options available to promote neurological health and advocate for increased awareness and funding for these disorders.
In light of the campaign's focus on epilepsy, the late actor, dancer, and philanthropist Cameron Boyce graces the cover of the campaign. In an exclusive interview with parents Libby and Victor Boyce, the story honors his legacy. His family started The Cameron Boyce Foundation (TCBF) to support the causes that Cameron was passionate about: ending gun violence, advocating for clean water, and spreading kindness. Now, they're sharing their son's story, and advocating for awareness of SUDEP, the rare condition that takes the life of 1 in 1,000 people with epilepsy each year.
Boyce's family is encouraging families to speak up and be proactive when faced with an epilepsy diagnosis, especially as they were unaware of what kind of specialists to go to and what their son needed beyond his medications.
"We can't wither away. He didn't and he wouldn't," says Victor Boyce, explaining they're motivated by their son's strength and determination. "We can't wither away and back down from what's going on."
The print component of "Neurological Disorders" is distributed within today's edition of USA Today in New York, Los Angeles, Boston, Chicago, South Florida, Washington D.C./Baltimore, and Houston. The digital component is distributed nationally through a vast social media strategy and across a network of top news sites and partner outlets. To explore the digital version of the campaign, visit https://www.futureofpersonalhealth.com/campaign/neurological-disorders/
The edition will also make an appearance at several key brain health conferences and events throughout 2020, including the American Academy of Neurology's Annual Meeting in April, Shake It Till We Make It 2020 presented by Wieden + Kennedy in May, The 10th Annual Traumatic Brain Injury Conference hosted by Arrowhead Publishers in June, and Epilepsy Awareness Day at Disneyland in November; and well into spring 2021 at the Parkinson's Expo hosted by the Neuro Challenge for Parkinson's.
This campaign was made possible with the support of the American Brain Foundation, American Parkinson Disease Association, Parkinson's Foundation, Acorda Therapeutics, Neurocrine Biosciences, Adamas Pharmaceuticals, Kyowa Kirin, Prebiotin, The Cameron Boyce Foundation, the Brian Grant Foundation, the Epilepsy Foundation, American Migraine Foundation, Natrol, BrainMD, Citizens United for Research in Epilepsy (CURE), UK HealthCare, Theranica, the Anita Kaufmann Foundation, Brain Injury Alliance, NeuroChallenge Foundation for Parkinson's, and more.
About Mediaplanet
Mediaplanet specializes in the creation of content marketing campaigns covering a variety of industries. We tell meaningful stories that educate our audience and position our clients as solution providers. Our unique ability to pair the right leaders with the right readers, through the right platforms, has made Mediaplanet a global content marketing powerhouse. Our award-winning stories have won the hearts of countless readers while serving as a valuable platform for brands and their missions. Just call us storytellers with a purpose. Please visit http://www.mediaplanet.com for more on who we are and what we do.
Press Contact:
Victoria Borkowski
(646) 755-7949
victoria.borkowski@mediaplanet.com