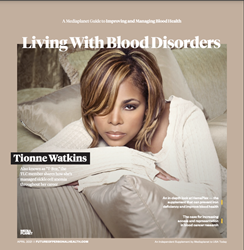 "If you want something in life, you have to go after it." — Tionne Watkins, AKA T-Boz
NEW YORK (PRWEB) April 16, 2021
Mediaplanet today announces the launch of its cross-platform campaign "Living With Blood Disorders." Blood diseases affect millions of people each year. As blood is one of the most important components of our bodies, the more awareness we raise, the more research that gets done to save the lives of those who struggle with these life-changing diseases.
The campaign raises awareness for new innovations in treating disorders that affect the blood, bone marrow, and immunologic, hemostatic, and vascular systems by promoting diagnostics, treatment, and education. Blood health goes beyond the concept of disease and clinical care — it involves policy and advocacy work to ensure strides continue to be made.
The print component of "Living With Blood Disorders" is distributed within today's edition of USA Today in the the New York, Los Angeles, San Francisco, Chicago, Washington DC/Baltimore, Philadelphia, Florida, Houston, and Dallas markets, with a circulation of approximately 200,000 copies and an estimated readership of 600,000. The digital component is distributed nationally through a vast social media strategy, and across a network of top news sites and partner outlets. To explore the digital version of the campaign, visit http://www.futureofpersonalhealth.com/campaign/blood-health.
Grammy-winning singer, songwriter, and dancer Tionne Watkins is featured on the cover of the print publication. Watkins — better known by her stage name T-Boz; the "T" in '90s R&B girl group TLC — was diagnosed with sickle cell anemia as a child and is raising awareness about the disease that affects more than 100,000 Americans. In an exclusive interview, she talks about the preparations and precautions she's learned to take when the group goes on tour, and aims to empower others who are living with sickle cell. "If you want something in life, you have to go after it," Watkins says.
This campaign was made possible with the support of the American Society of Hematology (ASH), American Red Cross, America's Blood Centers, Lymphoma Research Foundation, National Blood Clot Alliance, Natasha Verma, Brian Vickers, Billy Garrett, Alex Dowsett, Oklahoma Blood Institute, Tionne Watkins, NaturesPlus, MUSC Shawn Jenkins Children's Hospital, and DKMS.
About Mediaplanet
Mediaplanet specializes in the creation of content marketing campaigns covering a variety of industries. We tell meaningful stories that educate our audience and position our clients as solution providers. Our unique ability to pair the right leaders with the right readers, through the right platforms, has made Mediaplanet a global content marketing powerhouse. Our award-winning stories have won the hearts of countless readers while serving as a valuable platform for brands and their missions. Just call us storytellers with a purpose. Please visit http://www.mediaplanet.com for more on who we are and what we do.
Insert Press Contact:
Samantha Jahoda
samantha.jahoda@mediaplanet.com