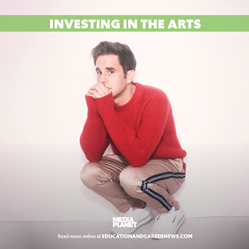 Research indicates arts education is hugely beneficial for students, correlating with higher test scores, improved concentration, increased levels of empathy, and more.
NEW YORK (PRWEB) March 24, 2020
Mediaplanet today announces the launch of this March's edition of "Investing in the Arts." This campaign highlights the important work arts administrators, educators, organizations, and more are doing to support the arts and art programs, from advocating for increased federal funding to developing innovative teaching methods. Art programs are being used to treat PTSD in military veterans, transform the juvenile justice system, boost morale as part of disaster relief efforts, and more.
Research indicates arts education is hugely beneficial for students, correlating with higher test scores, improved concentration, increased levels of empathy, and more. The recent "Living the Arts through Language + Learning" report showed that young people with high arts involvement were four times more likely to be recognized for academic achievement than peers without robust art education. "Low-income students who are highly engaged in the arts are more likely than their peers with low arts involvement to have obtained gainful employment, completed college, and volunteered in their communities," the report notes. Despite this, according to the U.S. Department of Education, 3.9 million public elementary school students have no access to visual arts classes, while 1.3 million have no access to music classes.
The print component of "Investing in the Arts" is distributed within today's edition of USA Today in New York, Los Angeles, Chicago, Dallas, Washington D.C., Baltimore, Nashville, New Orleans, and South Florida, with a circulation of approximately 200,000 copies and an estimated readership of 600,000. The digital component is distributed nationally, through a vast social media strategy, and across a network of top news sites and partner outlets. To explore the digital version of the campaign, visit: https://www.educationandcareernews.com/campaign/investing-in-arts-education/
Award-winning actor and singer Ben Platt graces the cover of the print publication. In an exclusive interview, Platt says he counts himself lucky to have been given the opportunity to participate in theatre growing up. "I had the passion for it and a lot of outlets," he adds "I know that's not the case of a lot of young people." Platt says his involvement in theatre as a kid taught him important lessons in teamwork and accountability, because in a performing scenario you have to be able to trust everyone around you. "It's so much about creating a family," he says. Platt recently received the 2019 Ted Arison Young Artist Award for his contributions to theatre — an accolade he considers himself "unworthy" of, though he is still grateful for the honor.
This campaign was made possible with the support of The New York Conservatory for Dramatic Arts, Sweet Adelines International, Ringling College of Art + Design, ScholarshipAuditions.com, Elation Professional, Ovation, QuaverEd, Blick Art Materials, Dramatists Play Service, Wenger Corporation, Baltimore Museum of Art, Kansas City Art Institute, Ben Platt, Americans for the Arts, National Association for Music Education, National PTA, Association of Independent Colleges of Art & Design, National Endowment for the Arts, Arts Education Partnership, Educational Theatre Association, Music Teachers National Association, and the Association of Arts Administration Educators.
About Mediaplanet
Mediaplanet specializes in the creation of content marketing campaigns covering a variety of industries. We tell meaningful stories that educate our audience and position our clients as solution providers. Our unique ability to pair the right leaders with the right readers, through the right platforms, has made Mediaplanet a global content marketing powerhouse. Our award-winning stories have won the hearts of countless readers while serving as a valuable platform for brands and their missions. Just call us storytellers with a purpose. Please visit http://www.mediaplanet.com for more on who we are and what we do.
Press Contact:
Shira Peretz
shira.peretz@mediaplanet.com